It's Tuesday! That means it is time to make a little bit of room on the bookshelves, load up your ereader, or make your way to your local library. In other words - It is time to get your hands on a new book!
Here are just a few books that have just been released that you may want to grab soon: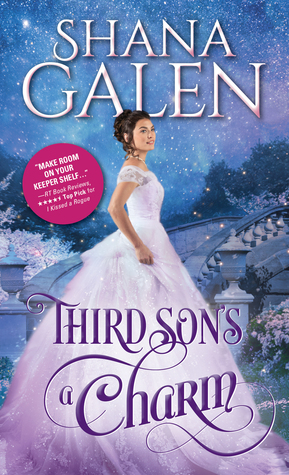 Third Son's a Charm by Shana Galen
Find it at:
Goodreads
|
Booklikes
|
LibraryThing
Ewan Mostyn thinks a job as a duke's daughter's bodyguard will be easy―but Lady Lorraine has a few tricks up her sleeve that spark an undeniable passion...

Fiercely loyal to his friends and comrades, Ewan Mostyn is the toughest in a group of younger sons of nobility who met as soldiers and are now trying desperately to settle back into peaceful Society. Ewan trusts his brawn more than his brains, but when he's offered a job watching the Duke of Ridlington's stubbornly independent daughter, he finds both are challenged.

Lady Lorraine wants none of her father's high-handed ways, and she'll do everything in her power to avoid her distressingly attractive bodyguard―until she lands herself in real trouble. Lorraine begins to see Ewan's protectiveness in a new light, and she can only hope that her stoic guardian will do for her what he's always done―fight for what he wants.
Find it at:
Elizabeth Miles scours 1920's Washington, D.C. for a killer in the first Counterfeit Lady novel from the author of the New York Times bestselling Gaslight mysteries.

Every woman plays a part—but some are more dangerous than others…

Like most women, Elizabeth Miles assumes many roles; unlike most, hers have made her a woman on the run. Living on the edge of society, Elizabeth uses her guile to relieve so-called respectable men of their ill-gotten gains. But brutal and greedy entrepreneur Oscar Thornton is out for blood. He's lost a great deal of money and is not going to forgive a woman for outwitting him. With his thugs hot on her trail, Elizabeth seizes the moment to blend in with a group of women who have an agenda of their own.

She never expects to like or understand these privileged women, but she soon comes to respect their intentions, forming an unlikely bond with the wealthy matriarch of the group whose son Gabriel is the rarest of species—an honest man in a dishonest world. She knows she's playing a risky game, and her deception could be revealed at any moment, possibly even by sharp-eyed Gabriel. Nor has she been forgotten by Thornton, who's biding his time within this gilded orbit, waiting to strike. Elizabeth must draw on her wits and every last ounce of courage she possesses to keep her new life from being cut short by this vicious shadow from her past.
To Marry a Texas Outlaw by Linda Broday
Find it at:
Goodreads
|
Booklikes
|
LibraryThing
Three Brothers. One Oath.
No Compromises.
The MEN of LEGEND

The Outlaw
Outlaw Luke Weston survives by his wits. On the run for a murder he didn't commit, the last thing he needs is to go looking for more trouble. But when Luke stumbles across a fiercely beautiful woman struggling against two heavily armed men, it's obvious that trouble has found him.

After all, he never could resist a damsel in distress.

Josie Morgan's distressed, all right―and hopping mad. She has no idea why she's been kidnapped...or who she is...or why her body melts for the mysterious gunslinger who saved her life. But as the lost memories come tumbling back together, Josie is faced with the stark reality of why she and Luke can never be...even as her heart is telling her she will always be his.
Holiday Wishes by Jill Shalvis
Find it at:
Goodreads
|
Booklikes
|
LibraryThing
It's Christmastime again in Heartbreaker Bay!

When Sean O'Riley shows up at the Hartford Bed & Breakfast for his older brother's bachelor weekend, he's just hoping to make it through the weekend. What he's not expecting is to come face to face with the woman he lost his virginity to a decade ago—a woman he's never really forgotten.

The last time Lotti Hartford saw Sean, she told him she loved him while he said nothing. Now, ten years later, she's just looking for a good time. For once, she wants to be the wild and free one, and Sean – the good time guy – is the perfect candidate.

But as the weekend continues, Sean realizes that after a lifetime of being the hook-up king, he's ready to find happily-ever-after, and he wants it with Lotti. But will she open her heart to him again? As Christmas sweeps through the little B&B, he can only hope love and magic are in the air.
More Great Books Being Released Today
(Covers link to Goodreads)