It's Tuesday! That means it is time to make a little bit of room on the bookshelves, load up your ereader, or make your way to your local library. In other words - It is time to get your hands on a new book!
Here are just a few books that have just been released that you may want to grab soon:
Van by Sawyer Bennett
Find it at:
Goodreads
|
LibraryThing
Score one for the Carolina Cold Fury hockey team as a stone-cold badass melts for a woman who makes his blood run hot.

As one of the league's toughest enforcers, Van Turner is ruthless on the ice. He plays hard because it's the only way to channel the rage boiling inside, and a reputation as an A-hole is better than everyone knowing the truth. Van has spent his entire life running from a secret that's kept him from getting involved in relationships—or accepting lucrative deals with East Coast teams. Then the Carolina Cold Fury makes him an offer he can't refuse . . . and Van meets a woman he can't resist.

Simone Fournier is the stubborn one in her family—and that's saying something, considering her brothers are two of the Cold Fury's biggest stars. Simone gets what she wants, and what she wants is Van. Still, there's a part of him Simone can't reach, no matter how hard she tries. In private, he's all fire and passion. In public, he freezes her out. Van may want to push her away, but Simone won't let him go that easily. Because this time, she's playing for keeps.
Find it at:
You can run from your destiny, but you can't hide

Ivy thought that she and Adrian had conquered their fates. Yet with thousands of innocents still trapped in the demon realms, she's determined to locate the final hallowed weapon and harness its unparalleled power to free them. But the last relic nearly put Ivy in the grave—there's probably no coming back from this one.

Adrian's dark lineage has made him the most powerful of his kind, yet even his incredible abilities might not be enough now. Instead, the treacherous fate he has fought so hard to escape might be the only way he can save Ivy. Their scintillating bond has been tested before, but never with so much on the line. Now fate will come head-to-head against true love, and nothing they've endured can prepare Ivy and Adrian for the unthinkable choices they'll face...

Don't miss the earth-shattering conclusion to New York Times bestselling author Jeaniene Frost's Broken Destiny series!
Weave a Circle Round by Kari Maaren
Find it at:
Goodreads
|
Booklikes
|
LibraryThing
Freddy wants desperately to not be noticed. She doesn't want to be seen as different or unusual, but her step-brother Roland gets attention because he's deaf, and her little sister Mel thinks she's a private detective. All Freddy wants to do is navigate high school with as little trouble as possible.

Then someone moves into the house on Grosvenor Street. Two extremely odd someones.

Cuerva Lachance and Josiah aren't . . . normal. When they move in next door, the house begins to exhibit some decidedly strange tendencies, like not obeying the laws of physics or reality. Just as Freddy thinks she's had enough of Josiah following her around, she's plunged into an adventure millennia in the making and discovers the truth about the new neighbors.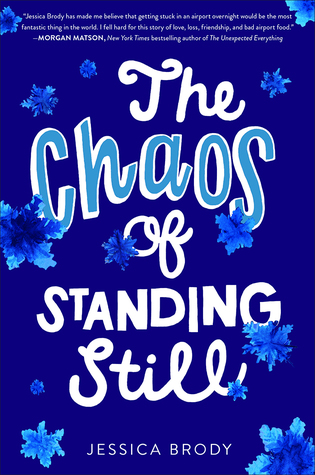 The Chaos of Standing Still by Jessica Brody
Find it at:
Goodreads
|
Booklikes
|
LibraryThing
Over the course of one chaotic night stranded at the Denver airport, Ryn confronts her shattered past thanks to the charm of romance, the uniqueness of strangers, and the magic of ordinary places in this stunning novel from the author of Boys of Summer.

Ryn has one unread text message on her phone. And it's been there for almost a year.

She hasn't tried to read it. She can't. She won't. Because that one message is the last thing her best friend ever said to her before she died.

But as Ryn finds herself trapped in the Denver International Airport on New Year's Eve thanks to a never-ending blizzard on the one-year anniversary of her best friend's death, fate literally runs into her.

And his name is Xander.

When the two accidentally swap phones, Ryn and Xander are thrust into the chaos of an unforgettable all-night adventure, filled with charming and mysterious strangers, a secret New Year's Eve bash, and a possible Illuminati conspiracy hidden within the Denver airport. But as the bizarre night continues, all Ryn can think about is that one unread text message. It follows her wherever she goes, because Ryn can't get her brialliantly wild and free-spirited best friend out of her head.

Ryn can't move on.

But tonight, for the first time ever, she's trying. And maybe that's a start.

As moving as it is funny, The Chaos of Standing Still is a heartwarming story about the earth-shattering challenges life throws at us—and the unexpected strangers who help us along the way.
More Great Books Being Released Today
(Covers link to Goodreads)