It's Tuesday! That means it is time to make a little bit of room on the bookshelves, load up your ereader, or make your way to your local library. In other words - It is time to get your hands on a new book!
Here are just a few books that have just been released that you may want to grab soon: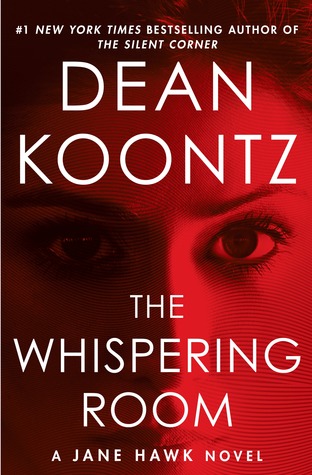 The Whispering Room by Dean Koontz
Find it at:
Goodreads
|
Booklikes
|
LibraryThing
Jane Hawk--fiction's most relentless, resourceful, stunning new heroine--continues her battle against a murderous conspiracy in the riveting sequel to The Silent Corner.

"No time to delay. Do what you were born to do. Fame will be yours when you do this."

These are the words that ring in the mind of mild-mannered, beloved schoolteacher Cora Gundersun--just before she takes her own life, and many others', in a shocking act of carnage. When the disturbing contents of her secret journal are discovered, it seems certain that she must have been insane. But Jane Hawk knows better.

In the wake of her husband's inexplicable suicide--and the equally mysterious deaths of scores of other exemplary individuals--Jane picks up the trail of a secret cabal of powerful players who think themselves above the law and beyond punishment. But these ruthless people bent on hijacking America's future for their own monstrous ends never banked on a highly trained FBI agent willing to go rogue--and become the nation's most wanted fugitive--in order to derail their insidious plans to gain absolute power with a terrifying technological breakthrough.

Driven by love for her lost husband and by fear for the five-year-old son she has sent into hiding, Jane Hawk has become an unstoppable predator. Those she is hunting will have nowhere to run when her shadow falls across them.
Find it at:
This time it's Alex Cross on trial.
Alex Cross is on the wrong side of the law. Serving a suspension from the force while he awaits trial for murder, Cross has been branded as a trigger-happy cop, another bad apple walking the streets with a gun, an accusation that Cross will do anything to refute. To make himself feel useful again, Cross opens a counseling office in the basement of his home. When his former partner Sampson shows up needing his help, Cross jumps at the chance, even if it may end up costing him what's left of his career. When a string of young, blonde women go missing, the investigation leads Cross and Sampson to the most depraved, darkest corners of the internet. Struggling to prove his own innocence and uncover the truth lurking online, Cross must risk everything to save his most at-risk patient of all...himself.
The Magic Misfits by Neil Patrick Harris
Find it at:
Goodreads
|
Booklikes
|
LibraryThing
From award-winning actor, Neil Patrick Harris, comes the magical first book in a new series with plenty of tricks up its sleeve.
When street magician Carter runs away, he never expects to find friends and magic in a sleepy New England town. But like any good trick, things change instantly as greedy B.B. Bosso and his crew of crooked carnies arrive to steal anything and everything they can get their sticky fingers on.

After a fateful encounter with the local purveyor of illusion, Dante Vernon, Carter teams up with five other like-minded illusionists. Together, using both teamwork and magic, they'll set out to save the town of Mineral Wells from Bosso's villainous clutches. These six Magic Misfits will soon discover adventure, friendship, and their own self-worth in this delightful new series.

(Psst. Hey, you! Yes, you! Congratulations on reading this far. As a reward, I'll let you in on a little secret... This book isn't just a book. It's a treasure trove of secrets and ciphers and codes and even tricks. Keep your eyes peeled and you'll discover more than just a story--you'll learn how to make your own magic!)
Sweet Tea and Sympathy by Molly Harper
Find it at:
Goodreads
|
Booklikes
|
LibraryThing
Beloved author Molly Harper launches a brand-new contemporary romance series, Southern Eclectic, with this story of a big-city party planner who finds true love in a small Georgia town.

Nestled on the shore of Lake Sackett, Georgia is the McCready Family Funeral Home and Bait Shop. (What, you have a problem with one-stop shopping?) Two McCready brothers started two separate businesses in the same building back in 1928, and now it's become one big family affair. And true to form in small Southern towns, family business becomes everybody's business.

Margot Cary has spent her life immersed in everything Lake Sackett is not. As an elite event planner, Margot's rubbed elbows with the cream of Chicago society, and made elegance and glamour her business. She's riding high until one event goes tragically, spectacularly wrong. Now she's blackballed by the gala set and in dire need of a fresh start—and apparently the McCreadys are in need of an event planner with a tarnished reputation.

As Margot finds her footing in a town where everybody knows not only your name, but what you had for dinner last Saturday night and what you'll wear to church on Sunday morning, she grudgingly has to admit that there are some things Lake Sackett does better than Chicago—including the dating prospects. Elementary school principal Kyle Archer is a fellow fish-out-of-water who volunteers to show Margot the picture-postcard side of Southern living. The two of them hit it off, but not everybody is happy to see an outsider snapping up one of the town's most eligible gentleman. Will Margot reel in her handsome fish, or will she have to release her latest catch?
More Great Books Being Released Today
(Covers link to Goodreads)