It's Tuesday! That means it is time to make a little bit of room on the bookshelves, load up your ereader, or make your way to your local library. In other words - It is time to get your hands on a new book!
Here are just a few books that have just been released that you may want to grab soon: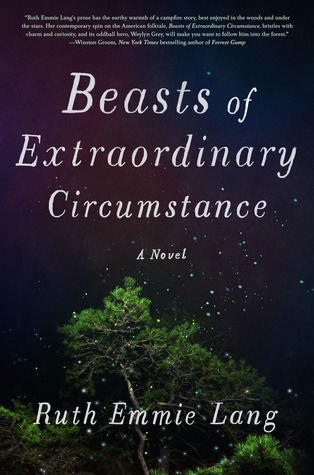 Beasts of Extraordinary Circumstance by Ruth Emmie Lang
Find it at:
Goodreads
|
Booklikes
|
LibraryThing
Orphaned, raised by wolves, and the proud owner of a horned pig named Merlin, Weylyn Grey knew he wasn't like other people. But when he single-handedly stopped that tornado on a stormy Christmas day in Oklahoma, he realized just how different he actually was.

That tornado was the first of many strange events that seem to follow Weylyn from town to town, although he doesn't like to take credit. As amazing as these powers may appear, they tend to manifest themselves at inopportune times and places. From freak storms to trees that appear to grow over night, Weylyn's unique abilities are a curiosity at best and at worst, a danger to himself and the woman he loves. But Mary doesn't care. Since Weylyn saved her from an angry wolf on her eleventh birthday, she's known that a relationship with him isn't without its risks, but as anyone who's met Weylyn will tell you, once he wanders into your life, you'll wish he'd never leave.

Beasts of Extraordinary Circumstance tells the story of Weylyn Grey's life from the perspectives of the people who knew him, loved him, and even a few who thought he was just plain weird. Although he doesn't stay in any of their lives for long, he leaves each of them with a story to tell. Stories about a boy who lives with wolves, great storms that evaporate into thin air, fireflies that make phosphorescent honey, and a house filled with spider webs and the strange man who inhabits it.

There is one story, however, that Weylyn wishes he could change: his own. But first he has to muster enough courage to knock on Mary's front door.

In this warm debut novel, Ruth Emmie Lang teaches us about adventure and love in a beautifully written story full of nature and wonder.
Find it at:
Jazz Bashara is a criminal.

Well, sort of. Life on Artemis, the first and only city on the moon, is tough if you're not a rich tourist or an eccentric billionaire. So smuggling in the occasional harmless bit of contraband barely counts, right? Not when you've got debts to pay and your job as a porter barely covers the rent.

Everything changes when Jazz sees the chance to commit the perfect crime, with a reward too lucrative to turn down. But pulling off the impossible is just the start of her problems, as she learns that she's stepped square into a conspiracy for control of Artemis itself—and that now, her only chance at survival lies in a gambit even riskier than the first.
Death in the Stacks by Jenn McKinlay
Find it at:
Goodreads
|
Booklikes
|
LibraryThing
In the latest Library Lover's Mystery from the New York Times bestselling author of Better Late Than Never, the library's big fund-raiser leaves director Lindsey Norris booked for trouble . . .

Lindsey Norris and her staff are gearing up for the Briar Creek Library's annual Dinner in the Stacks fund-raiser. The night of dinner and dancing is not only a booklover's dream--it's the library's biggest moneymaker of the year. But instead of raising funds, the new library board president is busy raising a stink and making the staff miserable.

Although Olive Boyle acts like a storybook villain, Lindsey is determined to work with her and make the event a success. But when Olive publicly threatens the library's newest hire, Paula, Lindsey cracks like an old book spine and throws Olive out of the library.

The night of the fund-raiser, Lindsey dreads another altercation with Olive--but instead finds Paula crouched over Olive's dead body. Paula may have secrets, but Lindsey and the rest of the crafternooners know she's not the one who took Olive out of circulation. As the plot thickens, Lindsey must catch the real killer before the book closes on Paula's future . . .
Oathbringer by Jill Brandon Sanderson
Find it at:
Goodreads
|
Booklikes
|
LibraryThing
The eagerly awaited sequel to the #1 New York Times bestselling Words of Radiance, from an epic fantasy author Brandon Sanderson at the top of his game.

In Oathbringer, the third volume of the New York Times bestselling Stormlight Archive, humanity faces a new Desolation with the return of the Voidbringers, a foe with numbers as great as their thirst for vengeance.

Dalinar Kholin's Alethi armies won a fleeting victory at a terrible cost: The enemy Parshendi summoned the violent Everstorm, which now sweeps the world with destruction, and in its passing awakens the once peaceful and subservient parshmen to the horror of their millennia-long enslavement by humans. While on a desperate flight to warn his family of the threat, Kaladin Stormblessed must come to grips with the fact that the newly kindled anger of the parshmen may be wholly justified.

Nestled in the mountains high above the storms, in the tower city of Urithiru, Shallan Davar investigates the wonders of the ancient stronghold of the Knights Radiant and unearths dark secrets lurking in its depths. And Dalinar realizes that his holy mission to unite his homeland of Alethkar was too narrow in scope. Unless all the nations of Roshar can put aside Dalinar's blood-soaked past and stand together--and unless Dalinar himself can confront that past--even the restoration of the Knights Radiant will not prevent the end of civilization.
More Great Books Being Released Today
(Covers link to Goodreads)