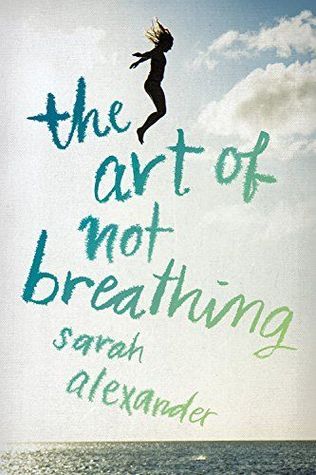 The Art of Not Breathing by Sarah Alexander
Publisher: HMH Books for Young Readers
Publication Date: April 26, 2016
Date Read: October 20, 2017
Length: 288 pages
Source: NetGalley
★★★★☆
Since her twin brother, Eddie, drowned five years ago, sixteen-year-old Elsie Main has tried to remember what really happened that fateful day on the beach. One minute Eddie was there, and the next he was gone. Seventeen-year-old Tay McKenzie is a cute and mysterious boy that Elsie meets in her favorite boathouse hangout. When Tay introduces Elsie to the world of freediving, she vows to find the answers she seeks at the bottom of the sea.



I liked this book. I have had a review copy of this book for about a year and a half and put it off after I started seeing mixed reviews. That was a mistake because this book worked really well for me. It is a rather short book but I think it moved fast for me because of how the story flowed. I just didn't want to quit turning pages once I reached a certain point in the story.
I was curious about the characters and their histories from the start of the book. The more that I read the more that I hooked. These characters have a lot of issues to deal with and I really wanted to see things work out for them. I am kind of surprised by how many tough topics found their way into this story but it worked.
This story follows Elsie. Elsie's twin brother, Eddie, died in a drowning accident 5 years earlier. Elsie and the rest of her family are just trying to keep moving forward but in many ways they are failing. Elsie's dad leaves for long periods of time and nobody knows where he is. Her mom drinks more than she should. Elsie isn't doing well in school and has no friends. Dillon seems to doing the best in the group but that's not really the case.
Elsie doesn't remember exactly what happened the day that Eddie died but she wants to remember. When she meets Tay and the other diving boys, she ends up learning to dive and finds that she feels closer to her lost brother under the water. She is remembering things and hopes to learn what happened just as her family is falling apart.
There were a few times in the story that I wanted to shake the characters for some of their actions but I always felt that what they did felt authentic. People don't always do what they should and as teenagers it can be even harder. While I didn't always like what the characters were doing, I understood why they made the choices that they did.
I would recommend this book to others. It was a book that had a really strong finish that made me feel for the characters. I am really a bit upset that I put this one off for as long as I did. I would definitely read more from Sarah Alexander in the future.
I received an advance reader copy of this book from Houghton Mifflin Harcourt Children's Book Group - HMH Books for Young Readers via NetGalley.