It's Tuesday! That means it is time to make a little bit of room on the bookshelves, load up your ereader, or make your way to your local library. In other words - It is time to get your hands on a new book!
Here are just a few books that have just been released that you may want to grab soon:
Wilde in Love by Eloisa James
Find it at:
Goodreads
|
Booklikes
|
LibraryThing
Lord Alaric Wilde, son of the Duke of Lindow, is the most celebrated man in England, revered for his dangerous adventures and rakish good looks. Arriving home from years abroad, he has no idea of his own celebrity until his boat is met by mobs of screaming ladies. Alaric escapes to his father's castle, but just as he grasps that he's not only famous but notorious, he encounters the very private, very witty, Miss Willa Ffynche.

Willa presents the façade of a serene young lady to the world. Her love of books and bawdy jokes is purely for the delight of her intimate friends. She wants nothing to do with a man whose private life is splashed over every newspaper.

Alaric has never met a woman he wanted for his own . . . until he meets Willa. He's never lost a battle.

But a spirited woman like Willa isn't going to make it easy. . . .

The first book in Eloisa James's dazzling new series set in the Georgian period glows with her trademark wit and sexy charm—and introduces a large, eccentric family. Readers will love the Wildes of Lindow Castle!
Find it at:
From the New York Times bestselling author of The Winter King comes a breathtaking new tale of love and adventure set in the mystical land of Mystral...

He wasn't supposed to choose her...

Seafaring prince Dilys Merimydion has been invited to court the three magical princesses of Summerlea. To eradicate the pirates threatening Calberna and to secure the power of the Sea Throne, Dilys vows to return home with a fierce warrior-queen as his bride. But politics has nothing to do with unexpected temptation.

She didn't dare wed him...

A weathermage like her sisters, Gabriella Coruscate's gentleness exemplifies the qualities of her season name, Summer. Yet her quiet poise conceals dangerous powers she cannot begin to wield. Better to live without excitement, she reasons, than risk her heart and lose control— until an irresistible Sealord jolts her awake with a thunderclap of raw desire.

Until evil threatens everything they hold dear...

When pirates kidnap Summer and her sisters, Dilys is in a desperate quest to save the woman he loves. Only by combining his command of the seas with the unleashed fury of Summer's formidable gifts can they defeat their brutal enemies and claim the most priceless victory of all: true love.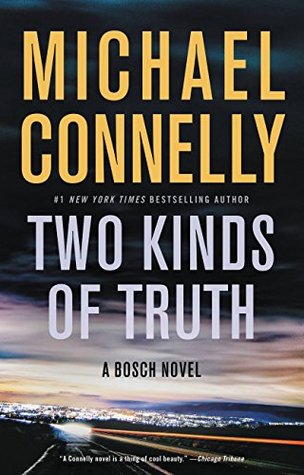 Two Kinds of Truth by Michael Connelly
Find it at:
Goodreads
|
Booklikes
|
LibraryThing
Harry Bosch searches for the truth in the new thriller from #1 NYT bestselling author Michael Connelly

Harry Bosch is back as a volunteer working cold cases for the San Fernando Police Department and is called out to a local drug store where a young pharmacist has been murdered. Bosch and the town's 3-person detective squad sift through the clues, which lead into the dangerous, big business world of pill mills and prescription drug abuse.

Meanwhile, an old case from Bosch's LAPD days comes back to haunt him when a long-imprisoned killer claims Harry framed him, and seems to have new evidence to prove it. Bosch left the LAPD on bad terms, so his former colleagues aren't keen to protect his reputation. He must fend for himself in clearing his name and keeping a clever killer in prison.

The two unrelated cases wind around each other like strands of barbed wire. Along the way Bosch discovers that there are two kinds of truth: the kind that sets you free and the kind that leaves you buried in darkness.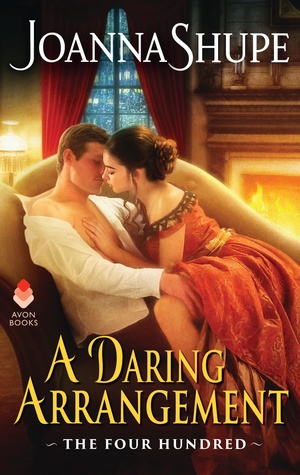 A Daring Arrangement by Joanna Shupe
Find it at:
Goodreads
|
Booklikes
|
LibraryThing
Set in New York City's Gilded Age, Joanna Shupe's Avon debut introduces an English beauty with a wicked scheme to win the man she loves—and the American scoundrel who ruins her best laid plans…

Lady Honora Parker must get engaged as soon as possible, and only a particular type of man will do. Nora seeks a mate so abhorrent, so completely unacceptable, that her father will reject the match—leaving her free to marry the artist she desires. Who then is the most appalling man in Manhattan? The wealthy, devilishly handsome financier, Julius Hatcher, of course….

Julius is intrigued by Nora's ruse and decides to play along. But to Nora's horror, Julius transforms himself into the perfect fiancé, charming the very people she hoped he would offend. It seems Julius has a secret plan all his own—one that will solve a dark mystery from his past, and perhaps turn him into the kind of man Nora could truly love.
More Great Books Being Released Today
(Covers link to Goodreads)