It's Tuesday! That means it is time to make a little bit of room on the bookshelves, load up your ereader, or make your way to your local library. In other words - It is time to get your hands on a new book!
Here are just a few books that have just been released that you may want to grab soon: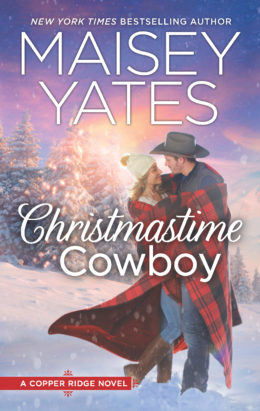 Christmastime Cowboy by Maisey Yates
Find it at:
Goodreads
|
Booklikes
|
LibraryThing
It's Christmas in Copper Ridge, and love is waiting to be unwrapped…

Falling for a bad boy once is forgivable. Twice would just be foolish. When Sabrina Leighton first offered her teenage innocence to gorgeous, tattooed Liam Donnelly, he humiliated her, then left town. The hurt still lingers. But so does that crazy spark. And if they have to work together to set up her family winery's new tasting room by Christmas, why not work him out of her system with a sizzling affair?

Thirteen years ago, Liam's boss at the winery offered him a bribe—leave his teenage daughter alone and get a full ride at college. Convinced he wasn't good enough for Sabrina, Liam took it. Now he's back, as wealthy as sin and with a heart as cold as the Oregon snow. Or so he keeps telling himself. Because the girl he vowed to stay away from has become the only woman he needs, and this Christmas could be just the beginning of a lifetime together…
Find it at:
Revenge has no limits.

Special Agent Matthew Roarke has abandoned his rogue search for serial killer Cara Lindstrom. He's returned to the FBI to head a task force with one mission: to rid society of its worst predators. But as the skeletal symbols of Santa Muerte, "Lady Death," mysteriously appear at universities nationwide, threatening death to rapists, Roarke's team is pressured to investigate. When a frat boy goes missing in Santa Barbara, Roarke realizes a bloodbath is coming—desperate teenagers are about to mete out personal, cold-blooded justice.

Hiding from the law, avenging angel Cara Lindstrom is on her own ruthless quest. She plans to stay as far away from Roarke as possible—until an old enemy comes after both her and the FBI, forcing her back into Roarke's orbit. This time, the huntress has become the hunted . . .
Hallow Be the Haunt by Heather Graham
Find it at:
Goodreads
|
Booklikes
|
LibraryThing
Years ago, Jake Mallory fell in love all over again with Ashley Donegal—while he and the Krewe were investigating a murder that replicated a horrible Civil War death at her family's Donegal Plantation.

Now, Ashley and Jake are back—planning for their wedding, which will take place the following month at Donegal Plantation, her beautiful old antebellum home.

But Halloween is approaching and Ashley is haunted by a ghost warning her of deaths about to come in the city of New Orleans, deaths caused by the same murderer who stole the life of the beautiful ghost haunting her dreams night after night.

At first, Jake is afraid that returning home has simply awakened some of the fear of the past…

But as Ashley's nightmares continue, a body count begins to accrue in the city…

And it's suddenly a race to stop a killer before Hallow's Eve comes to a crashing end, with dozens more lives at stake, not to mention heart, soul, and life for Jake and Ashley themselves.
Christmas in Icicle Falls by Sheila Roberts
Find it at:
Goodreads
|
LibraryThing
Join bestselling author Sheila Roberts this Christmas as she returns for the final installment in her treasured Icicle Falls series

When Muriel Sterling released her new book, A Guide to Happy Holidays, she felt like the Queen of Christmas. So she's thrilled when the new tree she ordered online arrives and is eager to show it off--until she gets it out of the box and realizes it's a mangy dud. But rather than sulk, Murial decides to make a project out of it. By the time her guests arrive for her annual Christmas party, the tree is a thing of beauty, and she realizes there's a lesson to be learned in all of this: everything and everyone has potential.

But her friends are not so sure about that. Sienna Marks has had about enough of the grouchy man next door who hates noise, hates kids and hates his new neighbors. And Olivia Claussen would love to send her obnoxious new daughter-in-law packing. But Muriel has inspired them both to try to find the good in everyone, and if they can learn to see the beauty in even the roughest characters, perhaps this might turn out to be the happiest holiday yet.
More Great Books Being Released Today
(Covers link to Goodreads)