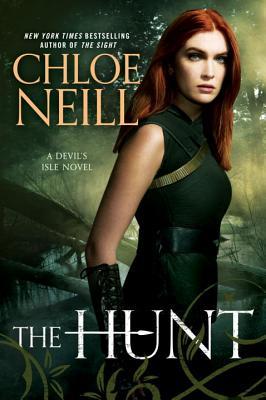 The Hunt by Chloe Neill
Series: Devil's Isle #3
Penguin Publishing Group
Publication Date: September 26, 2017
Date Read: September 26, 2017
Source: NetGalley
★
★
★

★

☆
From the New York Times bestselling author of the Chicagoland Vampires Novels—the hunter becomes the hunted in a New Orleans devastated by a Paranormal war....

When bounty hunter Liam Quinn discovered that Claire Connolly was a Sensitive and infected with magic, he should have turned her in to be locked up in the prison district known as Devil's Isle. Instead, he helped her learn to control her power and introduced her to an underground group of Paranormals and humans who know the truth about the war and those who fought it.

Now the weight of Liam's own secrets has forced him into hiding. When a government agent is killed and Claire discovers that Liam is the prime suspect, she races to find him before the government can. But she'll discover proving his innocence is no simple matter. Their enemies are drawing closer, and time is running out....

This was a really good book! I was really excited to dive back into this series after reading and enjoying the first two installments. This was a solid addition to the series. I feel that this is a series that really does need to be read in order since the events in each book builds on the earlier events. I found myself really getting hooked by the story and I ended up most of it in a single day.
Claire and the rest of the crew are laying low in New Orleans. Liam left without a word to anyone now that he has magic like Claire. When Liam is accused of murder, Claire insists on going to find him along with a couple of other members of the group. They do find him but also find another problem that seems to be putting paranormals at risk.
I really have been enjoying the wonderful cast of characters in this series. Each of the recurring characters are well developed and I think that I like them just a little bit more with each installment. They have all grown over the course of the series and have learned to rely on each other. The world that this story takes place in is equally well done. I really liked the contrast of the world outside of New Orleans that we saw a bit of in this installment.
I thought that the mystery at the core of this book was entertaining and quite complex. I found myself really working to figure out who was really responsible for the murder and how it connected to everything else going on. Claire must also deal with a few discoveries that are quite personal. The book does end in a very exciting manner that makes me want to get my hands on the next book as soon as I possibly can.
I would recommend this book to others. This is a really exciting series that takes place in a well crafted world that I think a lot of readers will enjoy. I can't wait to find out what happens next to Claire and the rest of the group!
I received an advance reader edition of this book from Berkley Publishing Group via NetGalley.
The Series - Devil's Isle
Book #3 - The Hunt - Now Available!
About the Author




Photo by Dana Damewood





Author Links: