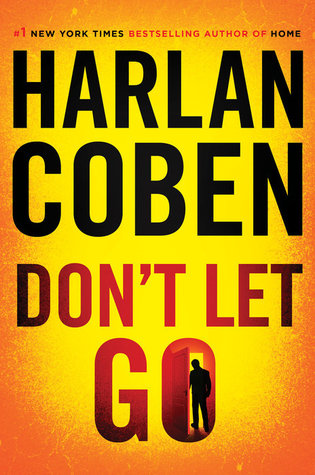 Don't Let Go by Harlan Coben
Publisher: Penguin Publishing Group - Dutton
Publication Date: September 26, 2017
Date Read: July 15, 2017
Length: 368 pages
Source: Edelweiss
★
★
★
★
★
With unmatched suspense and emotional insight, Harlan Coben explores the big secrets and little lies that can destroy a relationship, a family, and even a town in this powerful new thriller.

Suburban New Jersey Detective Napoleon "Nap" Dumas hasn't been the same since senior year of high school, when his twin brother Leo and Leo's girlfriend Diana were found dead on the railroad tracks—and Maura, the girl Nap considered the love of his life, broke up with him and disappeared without explanation. For fifteen years, Nap has been searching, both for Maura and for the real reason behind his brother's death. And now, it looks as though he may finally find what he's been looking for.

When Maura's fingerprints turn up in the rental car of a suspected murderer, Nap embarks on a quest for answers that only leads to more questions—about the woman he loved, about the childhood friends he thought he knew, about the abandoned military base near where he grew up, and mostly about Leo and Diana—whose deaths are darker and far more sinister than Nap ever dared imagine.

My Review
This was oh so good! I have been a long time fan of Harlan Coben's work so I went into this book with some pretty high expectations. This book met all of those expectations. It was literally a book that I did not want to put down and I ended up reading it cover to cover in less than a day. The story grabbed me from the very beginning and didn't let go until the last page. This book was filled with all of the twists and turns that I have come to expect from Harlan Coben.
The story is told from Nap's point of view. Nap is a New Jersey Detective with his own sense of right and wrong. His twin brother, Leo, and Leo's girlfriend, Diana, died together back in high school. Most people think that it was a double suicide but nobody really seems to know what happened. Nap's high school girlfriend, Maura, disappeared at the same time as his twin brother's death. Nap has always been somewhat desperate to learn what really happened.
When Maura's fingerprints are discovered at the murder scene of another high school classmate, Nap starts trying to piece everything together. He learns that not everything is as he thought it was and secrets have been kept from him by those he thought he could trust. As he learns more about that night, he realizes how much he really doesn't know. Can he piece together everything from all of those years ago before it it too late?
I thought that the writing was great. I loved the fact that I never could guess where this book was going. There were so many twists and turns in this novel that the excitement level of the story never wavered. I was truly surprised by so many of the revelations and found myself reading the book at a furious pace to find out what would happen next. The pacing of the book was perfectly done with action scenes spaced out around more thoughtful ones. I felt Nap's desperation to learn the truth behind what happened to his twin and wanted everything to come out okay in the end. I was delighted to see one of my favorite characters, Myron Bolitar, make a quick appearance in the story.
I would highly recommend this book to fans of mysteries with lots of twists and turns. This book was very fast paced and incredibly hard to put down. I can't wait to read more of Harlan Coben's work!
I received an advance reader edition of this book from Penguin Publishing Group - Dutton Books via Edelweiss.
About the Author




HARLAN COBEN is the internationally bestselling author of more than twenty previous novels, including the #1 New York Times bestsellers The Stranger, Missing You, Six Years, Stay Close, Live Wire, Caught, Long Lost, and Hold Tight, as well as the Myron Bolitar series and a series aimed at young adults featuring Myron's nephew, Mickey Bolitar. The winner of the Edgar, Shamus, and Anthony Awards, he lives in New Jersey.