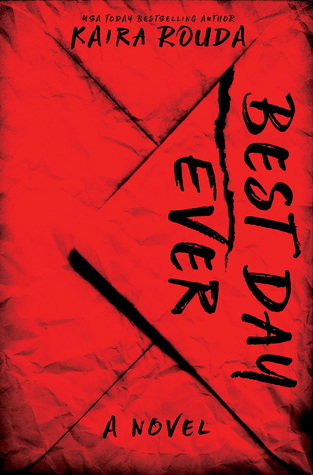 Best Day Ever by Kaira Rouda
Publisher: Graydon House
Publication Date: September 19, 2017
Date Read: September 17, 2017
Length: 352 pages
Source: NetGalley
★★★☆☆
I glance at my wife as she climbs into the passenger seat, and I am bursting with confidence. Today will be everything I've promised her…and more…

Paul Strom has the perfect life: a glittering career as an advertising executive, a beautiful wife, two healthy boys and a big house in a wealthy suburb. And he's the perfect husband: breadwinner, protector, provider. That's why he's planned a romantic weekend for his wife, Mia, at their lake house, just the two of them. And he's promised today will be the best day ever.

But as Paul and Mia drive out of the city and toward the countryside, a spike of tension begins to wedge itself between them and doubts start to arise. How much do they trust each other? And how perfect is their marriage, or any marriage, really?

Forcing us to ask ourselves just how well we know those who are closest to us, Best Day Ever crackles with dark energy, spinning ever tighter toward its shocking conclusion. In the bestselling, page-turning vein of The Couple Next Door and The Dinner, Kaira Rouda weaves a gripping, tautly suspenseful tale of deception and betrayal dark enough to destroy a marriage…or a life.

My Review
I liked this book. I didn't love it but I think a lot of people will. I decided to read this book without knowing much about it but the cover caught my attention and the premise sounded good which was enough for me. I knew pretty early on that I was going to have to see what was going to happen to these characters in the end.
This book tells Paul's story. The reader spends almost the entire book in Paul's head which is not always a pleasant place to be. I wasn't sure about Paul from the very beginning of the book and it quickly became apparent that he really wasn't someone you wanted to put your trust in. As the book moves forward, we only learn the things that Paul wants to share and he is only going to share the things that paint him in the best light possible.
Paul is taking his wife away for the weekend and has planned the best day ever. He has it all planned out and wants to make sure that things go perfectly. Unfortunately for Paul, there are a few factors that are out of his control. The neighbor seems to show up at all the wrong times and refuses to take a hint. Mia doesn't always follow the plan that Paul has in his head either.
I found myself setting this book aside more often than usual. I think I just needed a break from Paul's thoughts. I didn't like Paul at all which was kind of the point of the book but it made it hard to connect with any of the characters since everything is described by him. The entire takes place over the course of a single day. There are times in the book where things seemed to move really quickly but at other times the plot slowed to a crawl.
I would recommend this book to anyone that thinks the premise sounds interesting. It was pretty fast read for me which was a good thing since I was really wanting to see how everything would work out. I would be interested in reading more from Kaira Rouda in the future.
I received an advance reader edition of this book from Harlequin - Graydon House via NetGalley
.
About the Author


Kaira Rouda is a USA TODAY bestselling, multiple-award-winning author of contemporary women's fiction. Her novels include The Goodbye Year; Here, Home, Hope; All the Difference and In the Mirror. She is also the author of the bestselling short story "Mother's Day," as well as the Laguna Beach series and the Indigo Island series. Her nonfiction titles, Real You Incorporated: 8 Essentials for Women Entrepreneurs and Real You for Authors: 8 Essentials for Women Writers, continue to inspire.

Kaira's work has won numerous awards, including the Indie Excellence Award, USA Book Award, Readers' Choice Award and an honorable mention in the Writer's Digest International Book Awards. She lives in Southern California with her family and is at work on her next novel.