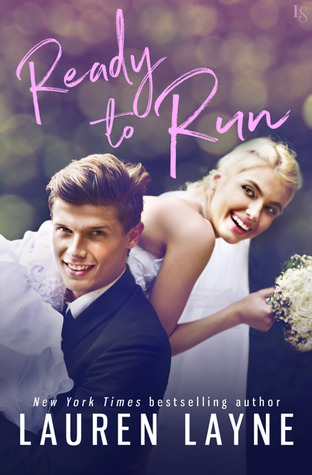 Ready to Run by Lauren Layne
Series: I Do, I Don't #1
Publisher: Random House Publishing Group - Loveswept
Publication Date: August 22, 2017
Date Read: August , 2017
Source: NetGalley
★
★
★
★
☆
The Bachelor meets The Runaway Bride in this addictive romance novel about a reality TV producer falling for her would-be star: a Montana heartthrob who wants nothing to do with the show.

Jordan Carpenter thinks she's finally found the perfect candidate for Jilted, a new dating show about runaway grooms: Luke Elliott, a playboy firefighter who's left not one but three brides at the altar. The only problem? Luke refuses to answer Jordan's emails or return her calls. Which is how she ends up on a flight to Montana to recruit him in person. It's not Manhattan but at least the locals in Lucky Hollow seem friendly . . . except for Luke, who's more intense—and way hotter—than the slick womanizer Jordan expected.

Eager to put the past behind him, Luke has zero intention of following this gorgeous, fast-talking city girl back to New York. But before he can send her packing, Jordan's everywhere: at his favorite bar, the county fair, even his exes' book club. Annoyingly, everyone in Lucky Hollow seems to like her—and deep down, she's starting to grow on him too. But the more he fights her constant pestering, the more Luke finds himself wishing that Jordan would kick off her high heels and make herself comfortable in his arms.

This romance was just charming! I am not usually too eager to read wedding themed books but I like Lauren Layne's writing enough that I knew I had to read this one. This was a really fun premise with most of the wedding talk being about a groom who had a history of leaving his brides at the alter. Throw in a reality show wanting to capitalize on that and and you have a great set up. This was just a lot of fun to read and I enjoyed every page of it.
Jordan comes to Lucky Hollow with one thing on her mind. She is determined to secure Luke Elliott, the hunky local firefighter, for a new TV show. Luke has left 3 brides standing at the alter and seems to be the perfect choice for the new reality TV show. There is only one problem. Luke isn't interested. At all. Jordan refuses to give up too quickly so she settles in for an extended stay in the small town of Lucky Hollow.
Luke is an all around good guy. He works for the local fire department and has a great group of friends. He is not at all interested in the attention he is getting in regards to possibly staring in a new reality show. He has had 3 relationships end poorly but he has moved on with his life. The entire town seems to want him to sign on for the show and they have all become friends with Jordan.
I really enjoyed Jordan and Luke as a couple. They started out as adversaries because of the TV show before giving into their attraction to each other. Even when they were arguing with each other, they had some great chemistry. They seemed to be really good together anytime they shared a scene. They both had some painful events in their past that were heartbreaking.
I would recommend this book to fans of contemporary romance. This was a really fun story filled with wonderful characters. It was one of those story that leaves you with a big grin on your face by the time you get to the last page. I can't wait to read more of this new series soon!
I received an advance reader edition of this book from Random House Publishing Group - Loveswept via NetGalley
.
About the Author


Lauren Layne is the New York Times bestselling author of over a dozen romantic comedies.

A former e-commerce and web marketing manager from Seattle, Lauren relocated to New York City in 2011 to pursue a full-time writing career.

She lives in midtown Manhattan with her high-school sweetheart, where she writes smart romantic comedies with just enough sexy-times to make your mother blush. In LL's ideal world, every stiletto-wearing, Kate Spade wielding woman would carry a Kindle stocked with Lauren Layne books.