It's Tuesday! That means it is time to make a little bit of room on the bookshelves, load up your ereader, or make your way to your local library. In other words - It is time to get your hands on a new book!
Here are just a few books that have just been released that you may want to grab soon: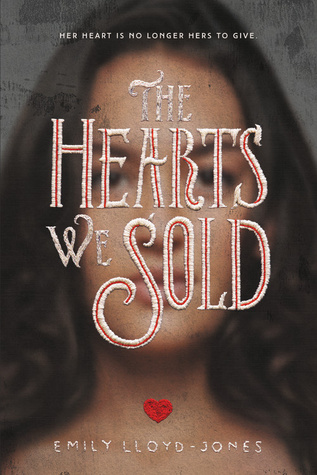 The Hearts We Sold by Emily Lloyd-Jones
Find it at:
Goodreads
|
Booklikes
|
LibraryThing
A thrilling blend of sci-fi, paranormal horror, and romance-perfect for fans of Holly Black and Leigh Bardugo

When Dee Moreno makes a deal with a devil--her heart in exchange for an escape from a disastrous home life--she finds her trade may be more than she bargained for. And becoming "heartless" is only the beginning. What lies ahead is a nightmare far bigger, far more monstrous than anything she ever could have imagined.

With reality turned on its head, Dee has only a group of other deal-making teens to keep her grounded, including the charming but secretive James Lancer. And as something like love grows between them amidst an otherworldly ordeal, Dee begins to wonder: can she give James her heart when it's no longer hers to give?

The Hearts We Sold is a Faustian tale for the modern age that will steal your heart and break it, and leave you begging for more.
Find it at:
A stunning novel on love, loss, identity, and redemption, from Publishers Weekly Flying Start author Brandy Colbert

When Suzette comes home to Los Angeles from her boarding school in New England, she isn't sure if she'll ever want to go back. L.A. is where her friends and family are (along with her crush, Emil). And her stepbrother, Lionel, who has been diagnosed with bipolar disorder, needs her emotional support.

But as she settles into her old life, Suzette finds herself falling for someone new...the same girl her brother is in love with. When Lionel's disorder spirals out of control, Suzette is forced to confront her past mistakes and find a way to help her brother before he hurts himself--or worse.
Spellbook of the Lost and Found by Moira Fowley-Doyle
Find it at:
Goodreads
|
Booklikes
|
LibraryThing
The highly anticipated new book from the acclaimed author of The Accident Season is a gorgeous, twisty story about things gone missing, things returned from the past, and a group of teenagers, connected in ways they could never have imagined.

One stormy Irish summer night, Olive and her best friend, Rose, begin to lose things. It starts with simple items like hairclips and jewelry, but soon it's clear that Rose has lost something much bigger, something she won't talk about, and Olive thinks her best friend is slipping away.

Then seductive diary pages written by a girl named Laurel begin to appear all over town. And Olive meets three mysterious strangers: Ivy, Hazel, and her twin brother, Rowan, secretly squatting in an abandoned housing estate. The trio are wild and alluring, but they seem lost too—and like Rose, they're holding tight to painful secrets.

When they discover the spellbook, it changes everything. Damp, tattered and ancient, it's full of hand-inked charms to conjure back things that have been lost. And it just might be their chance to find what they each need to set everything back to rights.

Unless it's leading them toward things that were never meant to be found...
The Luster of Lost Things by Sophie Chen Keller
Find it at:
Goodreads
|
Booklikes
|
LibraryThing
In this story for readers of The Curious Incident of the Dog in the Night-Time and A Man Called Ove, when all seems lost, he finds what matters most.

Walter Lavender Jr. is a master of finding. A wearer of high-tops. A maker of croissants. A son keeping vigil, twelve years counting.

But he wouldn't be able to tell you. Silenced by his motor speech disorder, Walter's life gets lonely. Fortunately, he has The Lavenders—his mother's enchanted dessert shop, where marzipan dragons breathe actual fire. He also has a knack for tracking down any missing thing—except for his lost father.

So when the Book at the root of the bakery's magic vanishes, Walter, accompanied by his overweight golden retriever, journeys through New York City to find it—along the way encountering an unforgettable cast of lost souls.

Steeped in nostalgic wonder, The Luster of Lost Things explores the depths of our capacity for kindness and our ability to heal. A lyrical meditation on why we become lost and how we are found, from the bright, broken heart of a boy who knows where to look for everyone but himself.
More Great Books Being Released Today
(Covers link to Goodreads)