It's Tuesday! That means it is time to make a little bit of room on the bookshelves, load up your ereader, or make your way to your local library. In other words - It is time to get your hands on a new book!
Here are just a few books that have just been released that you may want to grab soon:
Seeing Red by Sandra Brown
Find it at:
Goodreads
|
Booklikes
|
LibraryThing
#1 New York Times bestselling author Sandra Brown delivers nonstop suspense and supercharged sexual tension in a thriller about tainted heroism and vengeance without mercy.

Kerra Bailey is a TV journalist hot on the trail of a story guaranteed to skyrocket her career to new heights. Twenty-five years ago, Major Franklin Trapper became a national icon when he was photographed leading a handful of survivors to safety after the bombing of a Dallas hotel. For years, he gave frequent speeches and interviews but then suddenly dropped out of the public eye, shunning all media. Now Kerra is willing to use any means necessary to get an exclusive with the Major--even if she has to secure an introduction from his estranged son, former ATF agent John Trapper.

Still seething over his break with both the ATF and his father, Trapper wants no association with the bombing or the Major. Yet Kerra's hints that there's more to the story rouse Trapper's interest despite himself. And when the interview goes catastrophically awry--with unknown assailants targeting not only the Major, but also Kerra--Trapper realizes he needs her under wraps if he's going to track down the gunmen . . . and finally discover who was responsible for the Dallas bombing.

Kerra is wary of a man so charming one moment and dangerous the next, and she knows Trapper is withholding evidence from his ATF investigation into the bombing. But having no one else to trust and enemies lurking closer than they know, Kerra and Trapper join forces to expose a sinuous network of lies and conspiracy--and uncover who would want a national hero dead.
Find it at:
A BATTLE FOR JUSTICE PITS PARTNER AGAINST PARTNER...

Mary DiNunzio wants to represent her old friend Simon Pensiera, a sales rep who was wrongly fired by his company, but her partner Bennie Rosato represents the parent company. When she confronts Mary, explaining this is a conflict of interest, an epic battle of wills and legal strategy between the two ensues―ripping the law firm apart, forcing everyone to take sides and turning friend against friend.

SOMETIMES LOYALTY CAN BE LETHAL.
Rituals by Kelley Armstrong
Find it at:
Goodreads
|
Booklikes
|
LibraryThing
The fifth book and the exciting conclusion to bestselling author Kelley Armstrong's "impossible-to-put-down" Cainsville series, in which she mixes hard-hitting crime writing with phenomenal world-building to create a brand of fiction all her own.

Olivia Jones must make a choice. Caught between two rival supernatural forces, Liv was granted a brief period in which to make her decision. Now that time has run out. Whichever side she chooses, someone she loves will pay. Her lover, Ricky. Gabriel Walsh, the man she knows she cannot, must not love. Her parents, already trapped in prison.And now there is a new, terrifying power rising - one that doesn't distinguish between good and evil intentions. It feeds on chaos and destroys without mercy. Unless Liv acts fast, no one will survive. In this gripping thriller, international bestselling author Kelley Armstrong brings the Cainsville series to a powerful, richly rewarding climax.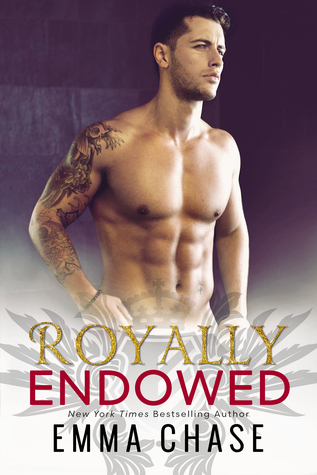 Royally Endowed by Emma Chase
Find it at:
Goodreads
|
Booklikes
|
LibraryThing
Logan St. James is a smoldering, sexy beast. Sure, he can be a little broody at times—but Ellie Hammond's willing to overlook that. Because, have you seen him??

Sexy. As. Hell.

And Ellie's perky enough for both of them.

For years, she's had a crush on the intense, gorgeous royal security guard—but she doesn't think he ever saw her, not really.

To Logan, Ellie was just part of the job—a relative of the royal family he'd sworn to protect. Now, at 22 years old and fresh out of college, she's determined to put aside her X-rated dreams of pat-downs and pillow talk, and find a real life happily ever after.

The Queen of Wessco encourages Ellie to follow in her sister's footsteps and settle down with a prince of her own. Or a duke, a marquis…a viscount would also do nicely.

But in the pursuit of a fairy tale ending, Ellie learns that the sweetest crushes can be the hardest to let go.
***
Logan St. James grew up on the wrong side of the tracks, in a family on the wrong side of the law. But these days, he covers his tattoos and scars with a respectable suit. He's handsome, loyal, brave, skilled with his hands and…other body parts.

Any woman would be proud to call him hers.

But there's only one woman he wants.

For years he's watched over her, protected her, held her hair back when she was sick, taught her how to throw a punch, and spot a liar.

He dreams of her. Would lay down his life for her.

But beautiful Ellie Hammond's off-limits.

Everybody knows the bodyguard rules: Never lose focus, never let them out of your sight, and never, ever fall in love.
More Great Books Being Released Today
(Covers link to Goodreads)