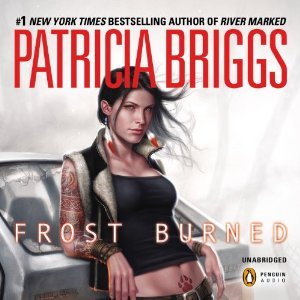 Frost Burned by Patricia Briggs
Narrated by Lorelei King
Series: Mercy Thompson #
7
Publisher: Penguin Audio
Publication Date: March 5, 2013
Date Read: August 22, 2017 (2nd read)
Source: Purchased - Audible
Length: 10 hours 1 minutes
★
★
★
★
☆
Mercy Thompson returns in the seventh novel in the number-one New York Times best-selling series.

Mercy Thompson's life has undergone a seismic change. Becoming the mate of Adam Hauptman - the charismatic Alpha of the local werewolf pack - has made her a stepmother to his daughter, Jesse, a relationship that brings moments of blissful normalcy to Mercy's life. But on the edges of humanity, what passes for a minor mishap on an ordinary day can turn into so much more....

After an accident in bumper-to-bumper traffic, Mercy and Jesse can't reach Adam - or anyone else in the pack for that matter. They've all been abducted.

Through their mating bond, all Mercy knows is that Adam is angry and in pain. With the werewolves fighting a political battle to gain acceptance from the public, Mercy fears Adam's disappearance may be related - and that he and the pack are in serious danger. Outclassed and on her own, Mercy may be forced to seek assistance from any ally she can get, no matter how unlikely.

This was another great installment in an excellent series. I have been working my way through an audio re-read of this amazing series over the course of this year. It surprises me how much I am enjoying this series during my re-read. This book isn't one of my favorites in the series but it was really good. I wanted to listen to this book for hours at a time because I wanted to stay with Mercy and the gang and make sure that everything would work out for them.
This book opens with Mercy and Jesse doing some black Friday shopping. Mercy gets into a small traffic accident while they were out which really shouldn't have been a big deal. They realize that there is a problem when they can't reach Adam or any other member of the pack when they call for a ride home. The entire pack has been abducted.
Mercy is such a strong character and great leader. She takes her role as Adam's mate seriously and works to keep everyone she safe. There is quite a bit of excitement as she works to protect the few connected to the pack that were not taken. She is able communicate with Adam through her mate bond so she isn't completely unaware of things that are happening.
I really enjoyed spending time with some of my favorite characters. Mercy was incredibly brave and smart in this story. She is willing to sacrifice her own safety to keep others safe when needed. Adam was fierce at times but such a great leader and protector. I do wish that Mercy and Adam hadn't been separated so much during this story. I really enjoyed the focus on Ben, Tad, and Asil in this book since they are characters that we don't always see a lot of.
Once again Lorelei King does a fantastic job with the narration. There were a few sections of this book that were told from Adam's point of view and I thought she did a great job with those. She really does bring Mercy to life. There is so much emotion that really comes through in her narration. She is quickly becoming one of my favorite narrators and I look forward to listening to more of her work soon.
I would highly recommend this series to others. This is my second time experiencing this book but it will not be my last. It is simply wonderful to find a series of books that you know you will enjoy no matter how many times you read them. I can't wait to listen to the next book very soon.
The Series - Mercy Thompson
Book 7 - Frost Burned
Click the links to read my reviews for the other books in this series!
About the Author

Photo: © Mike Briggs

#1 New York Times bestselling author Patricia Briggs lives in Washington State with her husband, children, and a small herd of horses.