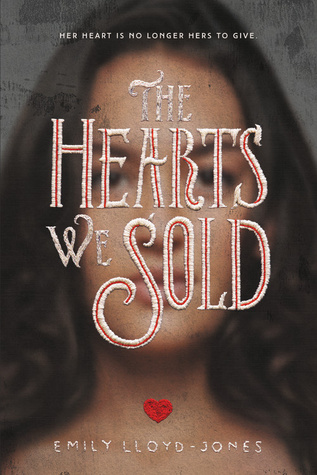 The Hearts We Sold by Emily Lloyd-Jones
Publisher: Little, Brown Books for Young Readers
Publication Date: August 8, 2017
Date Read: July 24, 2017
Length: 400 pages
Source: Publisher - The Novl
★★★★☆
A thrilling blend of sci-fi, paranormal horror, and romance-perfect for fans of Holly Black and Leigh Bardugo

When Dee Moreno makes a deal with a devil--her heart in exchange for an escape from a disastrous home life--she finds her trade may be more than she bargained for. And becoming "heartless" is only the beginning. What lies ahead is a nightmare far bigger, far more monstrous than anything she ever could have imagined.

With reality turned on its head, Dee has only a group of other deal-making teens to keep her grounded, including the charming but secretive James Lancer. And as something like love grows between them amidst an otherworldly ordeal, Dee begins to wonder: can she give James her heart when it's no longer hers to give?

The Hearts We Sold is a Faustian tale for the modern age that will steal your heart and break it, and leave you begging for more.

This was good. Really good. I went into this book with next to no expectations and am quite shocked by how much I ended up enjoying it. I was hooked right away by the story and only put it down when I had absolutely no other choice. There was enough action in the story to really keep my interest level high. I am so glad that I had the opportunity to read this wonderful story.
I found the story to be really original. Demons are present and can grant wishes for anyone willing to make a trade. Most demons require body parts like an arm or a leg in exchange for a wish. Dee ends up making a deal with a demon that asks for something a little different: her heart. He holds her heart for two years while she works for him in exchange for what she needs. Sounds like a reasonable trade doesn't it? Okay, maybe not.
Dee must work with a group of teens that have made a similar bargain with the demon. Their task is risky but they work together really well and make quite the team. I really liked all of the characters in this book. Each member of the group had a really interesting backstory that really helped to bring them to life. Dee's life at home is anything but ideal and she
has always had
to be the responsible one and take care of herself.
This book isn't a romance but there is some romance to the story. The romance doesn't overpower the story but is a really nice added element. Dee and James connect with each other right away. They really did seem to understand each other and were there when the other needed them to be. I liked how open with each other they were and thought that their relationship felt very genuine.
I would highly recommend this book to others. This was a story that really grabbed me from the start and entertained me to the very end. This is the first book by Emily Lloyd-Jones that I have had a chance to read and I will be looking for her work again in the future.
I received an advance reader edition of this book from Little, Brown Books for Young Readers via TheNovl.com.
About the Author




Emily Lloyd-Jones grew up on a vineyard in rural Oregon, where she played in evergreen forests and learned to fear sheep. After graduating from Western Oregon University with an English degree, she enrolled in the publishing program at Rosemont College just outside of Philadelphia. She currently resides in Northern California, working in a bookstore by day and writing by night.