It's Tuesday! That means it is time to make a little bit of room on the bookshelves, load up your ereader, or make your way to your local library. In other words - It is time to get your hands on a new book!
Here are just a few books that have just been released that you may want to grab soon:
Wildfire by Ilona Andrews
Find it at:
Goodreads
|
Booklikes
|
LibraryThing
Just when Nevada Baylor has finally come to accept the depths of her magical powers, she also realizes she's fallen in love. Connor "Mad" Rogan is in many ways her equal when it comes to magic, but she's completely out of her elements when it comes to her feelings for him. To make matters more complicated, an old flame comes back into Rogan's life…

Rogan knows there's nothing between him and his ex-fiance, Rynda Sherwood. But as Nevada begins to learn more about her past, her power, and her potential future, he knows she will be faced with choices she never dreamed of and the promise of a life spent without him.

As Nevada and Rogan race to discover the whereabouts of Rynda's kidnapped husband and are forced to confront Nevada's grandmother, who may or may not have evil motives, these two people must decide if they can trust in each other or allow everything to go up in smoke.
Find it at:
An evocative novel in the vein of Kate Morton and Daphne Du Maurier, in which the thrill of first love clashes with the bonds of sisterhood, and all will be tested by the dark secret at the heart of Applecote Manor.

Four sisters. One summer. A lifetime of secrets.

When fifteen-year-old Margot and her three sisters arrive at Applecote Manor in June 1959, they expect a quiet English country summer. Instead, they find their aunt and uncle still reeling from the disappearance of their daughter, Audrey, five years before. As the sisters become divided by new tensions when two handsome neighbors drop by, Margot finds herself drawn into the life Audrey left behind. When the summer takes a deadly turn, the girls must unite behind an unthinkable choice or find themselves torn apart forever.

Fifty years later, Jesse is desperate to move her family out of their London home, where signs of her widower husband's previous wife are around every corner. Gorgeous Applecote Manor, nestled in the English countryside, seems the perfect solution. But Jesse finds herself increasingly isolated in their new sprawling home, at odds with her fifteen-year-old stepdaughter, and haunted by the strange rumors that surround the manor.

Rich with the heat and angst of love both young and old, The Wildling Sisters is a gorgeous and breathtaking journey into the bonds that unite a family and the darkest secrets of the human heart.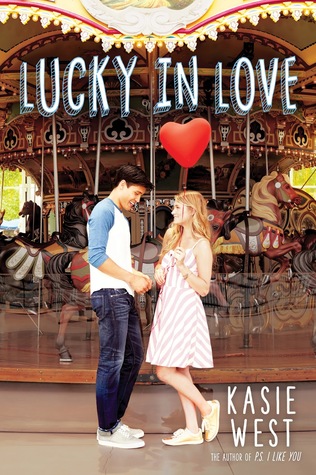 Lucky in Love by Kasie West
Find it at:
Goodreads
|
Booklikes
|
LibraryThing
In this new contemporary from YA star Kasie West, a girl who wins the lottery learns that money can cause more problems than it solves, especially when love comes into the picture.

Maddie doesn't believe in luck. She's all about hard work and planning ahead. But one night, on a whim, she buys a lottery ticket. And then, to her astonishment --

She wins!

In a flash, Maddie's life is unrecognizable. No more stressing about college scholarships. Suddenly, she's talking about renting a yacht. And being in the spotlight at school is fun... until rumors start flying, and random people ask her for loans. Now, Maddie isn't sure who she can trust.

Except for Seth Nguyen, her funny, charming coworker at the local zoo. Seth doesn't seem aware of Maddie's big news. And, for some reason, she doesn't want to tell him. But what will happen if he learns her secret?

With tons of humor and heart, Kasie West delivers a million-dollar tale of winning, losing, and falling in love.
The Lying Game by Ruth Ware
Find it at:
Goodreads
|
Booklikes
|
LibraryThing
From the instant New York Times bestselling author of blockbuster thrillers In a Dark, Dark Wood and The Woman in Cabin 10 comes Ruth Ware's chilling new novel.

On a cool June morning, a woman is walking her dog in the idyllic coastal village of Salten along a tidal estuary known as the Reach. Before she can stop him, the dog charges into the water to retrieve what first appears to be a wayward stick, but to her horror, turns out to be something much more sinister...

The next morning, three women in and around London—Fatima, Thea, and Isabel—receive the text they had always hoped would NEVER come, from the fourth in their formerly inseparable clique, Kate, that says only, "I need you."

The four girls were best friends at Salten, a second rate boarding school set near the cliffs of the English Channel. Each different in their own way, the four became inseparable and were notorious for playing the Lying Game, telling lies at every turn to both fellow boarders and faculty, with varying states of serious and flippant nature that were disturbing enough to ensure that everyone steered clear of them. The myriad and complicated rules of the game are strict: no lying to each other—ever. Bail on the lie when it becomes clear it is about to be found out. But their little game had consequences, and the girls were all expelled in their final year of school under mysterious circumstances surrounding the death of the school's eccentric art teacher, Ambrose (who also happens to be Kate's father).

Atmospheric, twisty, and with just the right amount of chill that will keep you wrong-footed—which has now become Ruth Ware's signature style—The Lying Game is sure to be her next big bestseller. Another unputdownable thriller from the Agatha Christie of our time.
More Great Books Being Released Today
(Covers link to Goodreads)