Blog Tour Review - Wildfire by Ilona Andrews Excerpt Giveaway @ilona_andrews @avonbooks @TastyBookTours
I am so excited to be a part of the blog tour for
Wildfire
by Ilona Andrews. I am so in love with this series and am convinced that everything Ilona Andrews writes must turn to gold. Be sure to
Follow the Tour
!
Wildfire by Ilona Andrews
Series: Hidden Legacy #3
Publisher: Avon Books
Publication Date: July 25, 2017
Date Read: July 22, 2017 (2nd read)
Length: 384 pages
Source: Edelweiss
★★★★★
From Ilona Andrews, #1 New York Times bestselling author, the thrilling conclusion to her Hidden Legacy series, as Nevada and Rogan grapple with a power beyond even their imagination…

Nevada Baylor can't decide which is more frustrating — harnessing her truthseeker abilities or dealing with Connor "Mad" Rogan and their evolving relationship. Yes, the billionaire Prime is helping her navigate the complex magical world in which she's become a crucial player—and sometimes a pawn—but she also has to deal with his ex-fiancée, whose husband has disappeared, and whose damsel-in-distress act is wearing very, very thin.

Rogan faces his own challenges, too, as Nevada's magical rank has made her a desirable match for other Primes. Controlling his immense powers is child's play next to controlling his conflicting emotions. And now he and Nevada are confronted by a new threat within her own family. Can they face this together? Or is their world about to go up in smoke?

I loved this book! I have actually already read this book twice since I was able to get my hands on a copy. I couldn't wait to get started the first time through the book and barely came up for air until I finished the story. I knew that I would need to slow down and read it a second time before being able to write a review. So I read this book for a second time less than three months after my first read through and I liked it just as much the second time. There really aren't many books that I would able to do that with. I had such a good experience reading this book.
This is the third book in the Hidden Legacy series which really does need to be read in order. The whole series is amazing so you won't want to miss the earlier books anyway. Nevada and Rogan have been through a lot together by the time this book starts and things have changed drastically for Nevada and her family. Nevada and her family can no longer stay hidden so they must decide how to safely move forward. Their agency has taken on a case for Rogan's ex, Rynda. Rynda's husband is missing and nobody seems to want to look for him.
As we have come to expect, Nevada and Rogan will work together through some pretty tense situations in this novel. The action gets pretty intense and is really quite exciting to read. This book is so much more than a romance story but the romance is really well done. Nevada and Rogan belong with each other. I love every time they are on the page with each other. Their chemistry is off the charts and their banter is a lot of fun. Add a few magical elements into the mix and you have a story you can't quit thinking about.
The secondary characters are so well done. I think that every character in this series has something to add to the story. Nevada's family are so much fun and their feelings for each other are really genuine. Rogan's people are loyal and a force on their own. Cornelius and Matilda have almost become an extended part of the Baylor family and I really like the perspective that Cornelius brings to the agency. There is even a pacifist Kodiak bear and a blue tiger that is literally out of this world.
I highly recommend this series to everyone. I love the world that the writing pair of Ilona Andrews has crafted in this series and am in awe at the characters that live in that world. I will keep my fingers crossed that there might eventually be a few more novels in this wonderful series.
I received an advanced reader edition of this book from Avon Books via Edelweiss.
Hidden Legacy Series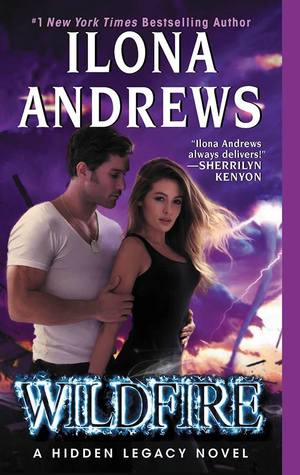 Book #1 -
Burn for Me
-
My Review
Book #2 -
White Hot
-
My Review
Book #3 -
Wildfire
- Coming July 25, 2017!
About the Author




"Ilona Andrews" is the pseudonym for a husband-and-wife writing team. Ilona is a native-born Russian and Gordon is a former communications sergeant in the U.S. Army. Contrary to popular belief, Gordon was never an intelligence officer with a license to kill, and Ilona was never the mysterious Russian spy who seduced him. They met in college, in English Composition 101, where Ilona got a better grade. (Gordon is still sore about that.) They have co-authored two New York Times and USA Today bestselling series—the urban fantasy of Kate Daniels and the romantic urban fantasy of The Edge—and are working on the next volumes for both. They live in Texas with their two children and many dogs and cats.