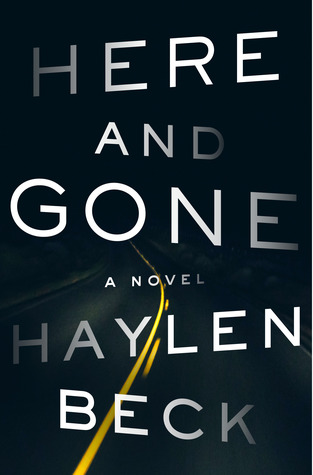 Here and Gone by Haylen Beck
Publisher: Crown Publishing Group
Publication Date: June 20, 2017
Date Read: June 6, 2017
Length: 304 pages
Source: NetGalley, Blogging for Books, and First to Read
★★★★☆
A compelling, impossible-to-put-down thriller about a mother's desperate fight to recover her stolen children from corrupt authorities, sure to appeal to readers of The Widow and Defending Jacob

Here and Gone is a gripping, wonderfully tense suspense thriller. It begins with a mother fleeing through Arizona with her kids in tow, trying to escape an abusive marriage. When she's pulled over by an unsettling local sheriff, things soon go awry and she is taken into custody. Only when she gets to the station, her kids are gone. And then the cops start saying they never saw any kids with her, that if they're gone than she must have done something to them. Meanwhile, halfway across the country, a man hears the frenzied news reports about the missing kids, which are eerily similar to events in his own past. As the clock ticks down on the search for the lost children, he too is drawn into the desperate fight for their return.


This book was really hard to put down. I knew that this was a book that I needed to read just as soon as I read the description. I love a good mystery thriller and the fact the it sounded like the local police couldn't be trusted was a very interesting twist. Once I started reading, I was immediately hooked. When I wasn't reading, I was thinking about this story and what I would have done if I were in Audra's place. I really enjoyed the time I spent reading this book.
Audra is driving across the U.S. on her way to California with her two children, Sean and Louise. She is pulled over by the police just outside a small town in Arizona called Silver Water. Before Audra even knows what is happening she is asked to step out of her car while Sheriff Whiteside starts looking through her trunk. Drugs are found and she is taken to jail. A deputy is called and her kids are taken away to what Audra is promised is a safe place. When she asks about her kids later at the jail, the Sheriff tells her that she didn't have any kids with her when she was pulled over.
The book's description does tell readers the basic set up of the story and I had a pretty good idea of where the book would end up but I had no idea how it would get there. The story really did make me think about a lot of things. I don't know how you would be able to prove your innocence in a situation like this. The media was another huge part of the story since they put Audra in a very unfavorable light. I also couldn't stop thinking about how Audra could get someone to take her seriously. Even though the events in the story weren't a total shock, the journey was entertaining.
I did like the characters in this book a lot and liked the fact that the book is told from different points of view. Audra really does care about her kids but is the first to admit that she has not always been a great mother. She is committed to being the best she can be at this point in her life. I thought that the part of the book that talked about her past were very well done. Part of the story is told from Sean's point of view. He is only 11 years old but has a certain maturity to him. He senses when things seem wrong and jumps into to care for his younger sister during the ordeal. There were also a few parts told from Danny and Sheriff Whiteside's point of views that added to the overall story.
I would highly recommend this book to others. This book moved really fast and I was never quite sure what would happen next. I found myself having a very hard time setting this one aside because I was completely invested in the story. This is the first book by Haylen Beck that I have read but look forward to more works in the future.
I received an advance reader edition of this book from Crown Publishing Group via NetGalley, Blogging for Books, and First to Read.
About the Author


HAYLEN BECK is the pseudonym of an acclaimed, Edgar Award-nominated author whose crime fiction has won the Los Angeles Times Book Prize and made best-of-year lists with numerous publications, including the New York Times, the Los Angeles Times, and the Boston Globe.