It's Tuesday! That means it is time to make a little bit of room on the bookshelves, load up your ereader, or make your way to your local library. In other words - It is time to get your hands on a new book!
Here are just a few books that have just been released that you may want to grab soon:
Run to Ground by Katie Ruggle
Find it at:
Goodreads
|
Booklikes
|
LibraryThing
He lost his mentor.
He lost his K9 partner.
He almost lost his will to live.
But when a ruthless killer targets a woman on the run, Theo and his new K9 companion will do whatever it takes to survive—and save the woman neither can live without.

Grieving the death of his partner, Theo Bosco has no room in his life for distractions. Though his instincts scream that he should avoid Juliet 'Jules' Jackson, he can't seem to stay away. It doesn't help that Theo's new K9 companion has fallen head over paws with Jules's rambunctious family.

Or that when he's with her, Theo finally knows peace.

When Jules rescued her siblings, whisking them away to the safety of the beautifully rugged Colorado Rockies, she never expected to catch the eye—or the heart—of a cop. Yet as Jules struggles to fight her growing attraction to the brooding K9 officer, another threat lurks much closer to home...

And this time, there's no escape.
Find it at:
In an enthralling new historical novel from national bestselling author Kate Quinn, two women—a female spy recruited to the real-life Alice Network in France during World War I and an unconventional American socialite searching for her cousin in 1947—are brought together in a mesmerizing story of courage and redemption.

1947. In the chaotic aftermath of World War II, American college girl Charlie St. Clair is pregnant, unmarried, and on the verge of being thrown out of her very proper family. She's also nursing a desperate hope that her beloved cousin Rose, who disappeared in Nazi-occupied France during the war, might still be alive. So when Charlie's parents banish her to Europe to have her "little problem" taken care of, Charlie breaks free and heads to London, determined to find out what happened to the cousin she loves like a sister.

1915. A year into the Great War, Eve Gardiner burns to join the fight against the Germans and unexpectedly gets her chance when she's recruited to work as a spy. Sent into enemy-occupied France, she's trained by the mesmerizing Lili, the "Queen of Spies", who manages a vast network of secret agents right under the enemy's nose.

Thirty years later, haunted by the betrayal that ultimately tore apart the Alice Network, Eve spends her days drunk and secluded in her crumbling London house. Until a young American barges in uttering a name Eve hasn't heard in decades, and launches them both on a mission to find the truth ...no matter where it leads.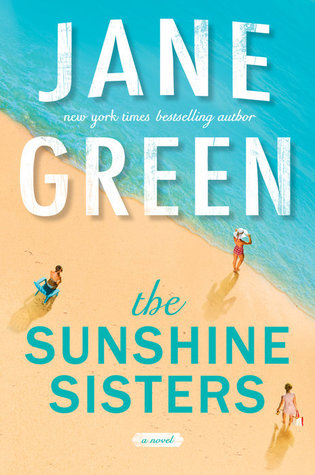 The Sunshine Sisters by Jane Green
Find it at:
Goodreads
|
Booklikes
|
LibraryThing
The New York Times bestselling author of Falling presents a warm, wise, and wonderfully vivid novel about a mother who asks her three estranged daughters to come home to help her end her life.

Ronni Sunshine left London for Hollywood to become a beautiful, charismatic star of the silver screen. But at home, she was a narcissistic, disinterested mother who alienated her three daughters.

As soon as possible, tomboy Nell fled her mother's overbearing presence to work on a farm and find her own way in the world as a single mother. The target of her mother s criticism, Meredith never felt good enough, thin enough, pretty enough. Her life took her to London and into the arms of a man whom she may not even love. And Lizzy, the youngest, more like Ronni than any of them, seemed to have it easy, using her drive and ambition to build a culinary career to rival her mother's fame, while her marriage crumbled around her.

But now the Sunshine Girls are together again, called home by Ronni, who has learned that she has a serious disease and needs her daughters to fulfill her final wishes. And though Nell, Meredith, and Lizzy are all going through crises of their own, their mother s illness draws them together to confront old jealousies and secret fears and they discover that blood might be thicker than water after all.
You Belong to Me by Colin Harrison
Find it at:
Goodreads
|
Booklikes
|
LibraryThing
The long-awaited new novel by "the class act of the urban thriller" (Entertainment Weekly)

YOU BELONG TO ME . . . Paul Reeves is a successful immigration lawyer, but his passion is collecting old maps of New York, tangible records of the city's rich history in an increasingly digital world. One afternoon he attends an auction with his neighbor Jennifer Mehraz, the beautiful young wife of an Iranian financier-lawyer, but halfway through the auction a handsome man in soldier fatigues appears in the aisle and whisks Jennifer away. YOU BELONG TO ME . . . A long-lost lover from Jennifer's rural Pennsylvania past, the man sets off a series of alarming events as those close to Jennifer try to figure out who he is and how the two are connected, including her high-powered and possessive husband, whose ultimate goal is to make this embarrassing intrusion into his marriage disappear. YOU BELONG TO ME . . . At the same time, one of the world's rarest and most inaccessible maps suddenly goes on sale, but before Paul can finalize a deal, another buyer snatches it out from under Paul's nose, sending him on a quest to find out who the mysterious buyer is and how to get the map for himself.

Eight years after his last critically acclaimed thriller, The Finder, Colin Harrison returns with You Belong to Me. Filled with compelling characters and a loving but biting satire of New York City, You Belong to Me is an exceptional novel, and Colin Harrison is at the top of his game.
More Great Books Being Released Today
(Covers link to Goodreads)
What new releases are you excited about this week?