Blog Tour Review - I Knew You Were Trouble by Lauren Layne @_laurenlayne @TastyBookTours @readloveswept
I am really excited to be a part of the review tour for I Knew You Were Trouble. Lauren Layne has become a go to author for me anytime I am wanting to read a fun and sexy kind of romance. Be sure to enter the giveaway at the end of the post for a chance to win an audiobook CD of the first three books in this wonderful series!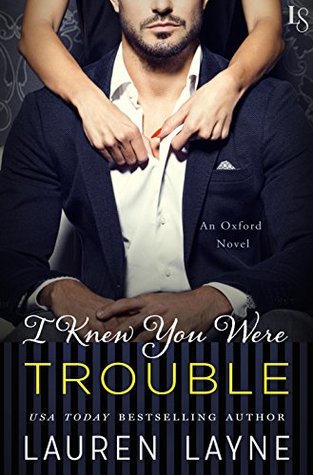 I Knew You Were Trouble by Lauren Layne
Series: Oxford #4
Publisher: Random House Publishing Group - Loveswept
Publication Date: June 13, 2017
Date Read: June 20, 2017
Length: 215 pages
Source: NetGalley
★
★
★
★
☆
New York City's hottest bachelors are stirring up trouble in this fun, flirty Oxford Novel, as a love triangle forces a feisty beauty to choose between winning back Mr. Right or giving in to Mr. Wrong.

Taylor Carr has it all—a sleek job in advertising, a stunning Manhattan apartment, and the perfect man to share it with: Bradley Calloway. Even after Bradley dumps her for a co-worker on move-in day, Taylor isn't worried. She'll get her man eventually. In the meantime, she needs a new roommate. Enter Nick Ballantine, career bartender, freelance writer—and longtime pain in Taylor's ass. Sexy in a permanent five-o'clock-shadow kind of way, Nick knows how to push Taylor's buttons, as if he could see right through to the real her.

Nick's always trying to fix people, and nobody could use a good fixing more than Taylor. Sure, she's gorgeous, with mesmerizing silver eyes, but it's her vulnerability that kills him. Now that they're shacking up together, the chemistry is out of control. Soon they're putting every part of their two-bedroom apartment to good use. Then Taylor's ex comes crawling back to her, and Nick figures she'll jump at the chance to go back to her old life—unless he fights for the best thing that ever happened to him.


I really enjoyed this enemies to lovers story. This was a pretty quick read and I found myself flying through this fun little book. This is the fourth book in the Oxford series and while fans of the series will enjoy seeing some of their favorite characters, this book could easily be read as a stand alone novel. This was one of those books that I could just totally lose myself in and ended up reading it for hours at a time. It definitely lived up to all of my expectations.
This book is about Taylor and Nick. The book starts out with short chapters showing some of their history with each other which I thought really set the stage of the book quite well. Taylor is planning to move in with her boyfriend, Bradley, but is surprised to find a break up note at the new apartment. When Taylor starts looking for a roommate, Nick decides to taker her up on it and the stage is set for a whole lot of fun.
I thought that Taylor and Nick had wonderful chemistry together. Each of these characters had some very painful moments in their past that really shaped how they deal with life. It became quite apparent that Taylor was very misunderstood because of how she was raised. Nick is a really good guy and sometimes others have taken advantage of his kindness. These two just seemed to fit together perfectly once they gave each other a chance.
I really liked the way this book was written. The characters were wonderfully developed. Their chemistry with each other was intense and their banter was a lot of fun. I liked the fact that it took this pair some time to really get together since it felt more realistic. I must admit that I was pretty sick of Bradley before the book was over but Taylor and Nick seemed to feel the same way so I guess that is okay.
I would highly recommend this book to fans of contemporary romance. This is a fun little book that tells a really wonderful story. Lauren Layne is one of my go to authors when I am in the mood for contemporary romance and I can't wait to see what she comes up with next.
I received an advance reader edition of this book from Random House Publishing Group - Loveswept via NetGalley
Oxford Series
Book #2 -
I Wish You Were Mine
-
My Review
Book #3 -
Someone Like You
-
My Review
Book #4 -
I Knew You Were Trouble
About the Author


Lauren Layne is the New York Times bestselling author of over a dozen romantic comedies.

A former e-commerce and web marketing manager from Seattle, Lauren relocated to New York City in 2011 to pursue a full-time writing career.

She lives in midtown Manhattan with her high-school sweetheart, where she writes smart romantic comedies with just enough sexy-times to make your mother blush. In LL's ideal world, every stiletto-wearing, Kate Spade wielding woman would carry a Kindle stocked with Lauren Layne books.