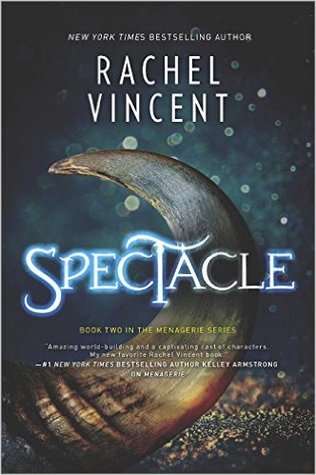 Spectacle by Rachel Vincent
Series: Menagerie #2
Publisher: Harlequin - MIRA
Publication Date: May 30, 2017
Date Read: March 18, 2017
Length: 400 pages
Source: NetGalley
★★★★★
In this riveting sequel to New York Times bestselling author Rachel Vincent's acclaimed novel Menagerie, Delilah Marlow will discover that there is no crueler cage than the confines of the human mind…

When their coup of Metzger's Menagerie is discovered, Delilah and her fellow cryptids find their newly won freedom brutally stripped away as they are sold into The Savage Spectacle, a private collection of "exotic wildlife." Specializing in ruthless cryptid cage matches, safari-style creature hunts and living party favors, the Spectacle's owner, Willem Vandekamp, caters to the forbidden fetishes of the wealthy and powerful. At the Spectacle, any wish can be granted—for the right price.

But Vandekamp's closely guarded client list isn't the only secret being kept at the Spectacle. Beneath the beauty and brutality of life in the collection lie much darker truths, and no one is more determined than Delilah to strip the masks from the human monsters and drag all dark things into the light.


This book lived up to all of my expectations. That is saying a lot because I really set the bar pretty high for this one. Last year, I picked up the first book in the series,
Menagerie
, on a whim and completely fell in love with the story. I immediately started counting down the days until I would be able to see what happens next in the life of Delilah and everyone else from Metzger's Menagerie. I had a few guesses about where the story would go next and all of them ended up being wrong. I couldn't be happier about that because I love it when a book really surprises me as this one was able to do.
This book picks up right after the events of
Menagerie
. This is a series that really should be read in order so I do recommend that readers new to the series go back and read
Menagerie
before starting this one. It is a great book so you wouldn't want to miss it anyway. Delilah and the gang are running the show and trying to make things work. Things are tough but they are enjoying their new found freedom until things go horribly wrong.
They soon find themselves being added to Vandekamp's Spectacle. This is not a place you would want to be. It isn't a traveling show as Metzger's was. Vandekamp's serves a different kind of customer. The exhibits are subjected to pretty much anything the clients are willing to pay for and the owners find profitable. The captives are controlled through high tech means which seem impossible to overcome.
This story proved to be incredibly exciting for me. Everything that Delilah goes through and sees in this story really got to me. I was as confused about what was happening at first as the characters were and my heart broke for them as we discovered more about what was going on. I kept wondering what was going to happen next and by the end of the book, I couldn't turn the pages nearly fast enough. Let's just say that this book definitely ends with a bang.
I would highly recommend this series to others. It is the kind of story that really makes you think about the things that people do to each other. Even though this is set in a world full of cryptids, I think that the behavior of the humans really felt authentic which makes me very sad. This is a series that has earned a spot on my favorites list and I can't wait to see what happens in the next installment!
I received an advance reader edition of this book from Harlequin - MIRA via NetGalley.
Book #2 - Spectacle
About the Author




New York Times bestselling author Rachel Vincent loves good chocolate, comfortable jeans, and serial commas. She's older than she looks and younger than she feels, but is convinced that for every day she spends writing, one more day will be added to her lifespan. Now absorbed in the dark, tangled loyalties of her UNBOUND world, as well as the travails of a teenage banshee in her SOUL SCREAMERS world, Rachel can be found online at www.rachelvincent.com or urbanfantasy.blogspot.com.