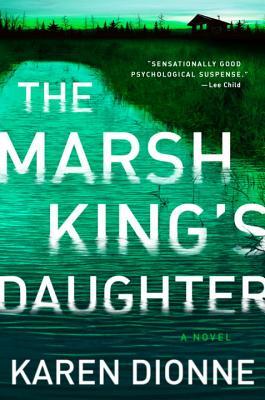 The Marsh King's Daughter by Karen Dionne
Publisher: G.P. Putnam's Sons
Publication Date: June 13, 2017
Date Read: May 5, 2017
Source: First to Read
★★★★☆
The suspense thriller of the year - The Marsh King's Daughter will captivate you from the start and chill you to the bone.

'I was born two years into my mother's captivity. She was three weeks shy of seventeen. If I had known then what I do now, things would have been a lot different. I wouldn't have adored my father.'

When notorious child abductor - known as the Marsh King - escapes from a maximum security prison, Helena immediately suspects that she and her two young daughters are in danger.

No one, not even her husband, knows the truth about Helena's past: they don't know that she was born into captivity, that she had no contact with the outside world before the age of twelve - or that her father raised her to be a killer.

And they don't know that the Marsh King can survive and hunt in the wilderness better than anyone... except, perhaps his own daughter.

Packed with gripping suspense and powerful storytelling, The Marsh King's Daughter is a one-more-page, read-in-one-sitting thriller that you'll remember for ever.

My Review
I really enjoyed this book. I decided to pick this book up simply because the story sounded interesting. I had never read anything by the author so I really didn't know what to expect. I was immediately hooked. I actually ended up reading the whole book in a little more than a day because I wanted to read it during every free second I had. If I wasn't reading, I was thinking about this captivating story. I am very happy that I decided to give this book a try.
This was a really exciting story told from a very unique point of view. I really liked how the story was told through present day events and memories. Helena was a wonderful character. She has lived a life very different than other people. She spent the first portion of her life with her mother and father in their home in the wilderness. She never saw anyone else and they were her entire life and that was her normal. In reality, her situation was anything but normal because her father had kidnapped her mother and was holding her captive.
Helena learns that her father, known as the Marsh King, has escaped from prison. She knows him better than anyone in law enforcement so she sets out to try to catch him herself. Helena's father taught her how to navigate in the wilderness. She knows how to track and hunt because her father made sure that she had those skills. She needs those skills to find him before it is too late.
I really enjoyed the way this book was written. I think that having the entire book come from Helena's point of view really worked well. Helena has a very unique point of view with memories from her childhood told through an adult's filter. The were times that we see things as she saw them as a child but other times that her adult views play a role. The book is set in the wilderness of northern Michigan and the descriptions were vivid in detail. The parts set in the present day were nicely balanced with the memories from the past.
I would highly recommend this book to others. It is an exciting story told from a very unique point of view. I couldn't turn the pages fast enough because I was eager to learn how everything would end. This is the first book by Karen Dionne that I have read but I look forward to reading more in the future.
I received an advanced reader edition of this book from G.P. Putnam's Sons via First to Read.
About the Author




KAREN DIONNE is the author of The Marsh King's Daughter and three other novels. She is also cofounder of the online writers community Backspace and the organizer of the Salt Cay Writers Retreat. She enjoys nature photography and lives with her husband in Detroit's northern suburbs.