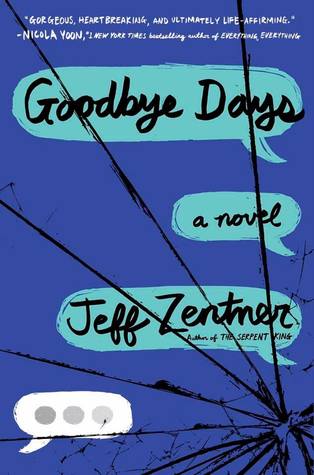 Goodbye Days by Jeff Zentner
Publisher: Crown Books for Young Readers
Publication Date: March 7, 2017
Date Read: April 30, 2017
Source: Blogging for Books
★
★
★
★
☆
What if you could spend one last day with someone you lost?

One day Carver Briggs had it all—three best friends, a supportive family, and a reputation as a talented writer at his high school, Nashville Academy for the Arts.

The next day he lost it all when he sent a simple text to his friend Mars, right before Mars, Eli, and Blake were killed in a car crash.

Now Carver can't stop blaming himself for the accident, and he's not the only one. Eli's twin sister is trying to freeze him out of school with her death-ray stare. And Mars's father, a powerful judge, is pressuring the district attorney to open a criminal investigation into Carver's actions.

Luckily, Carver has some unexpected allies: Eli's girlfriend, the only person to stand by him at school; Dr. Mendez, his new therapist; and Blake's grandmother, who asks Carver to spend a Goodbye Day with her to share their memories and say a proper goodbye to his friend.

Soon the other families are asking for a Goodbye Day with Carver, but he's unsure of their motives. Will they all be able to make peace with their losses, or will these Goodbye Days bring Carver one step closer to a complete breakdown or—even worse—prison?

I thought that this was a very moving book. As soon as I read the summary, I knew that this would be a book that I would need to read. Just imagine sending a text to a friend and then finding out that at the same time you were texting them they die in an automobile accident. Now imagine that that car was carrying not just one of your friends but all 3 of your best friends. Can you even imagine that level of grief and the guilt from knowing that your text may have been the cause of the crash? I don't think I could handle that know much less as a teenager. This was a book that I felt that I needed to read and I am glad that I did.
Carver is the teenager that sent that text. As the book opens, his friends are dead and he is at one of their funerals. His parents are out of the country and haven't been able to make it back to support him. He feels completely alone and responsible for everything that has happened. He does have a bit of support from, Jesmyn, the girlfriend of one of his friends that died in the accident.
This book not only deals with grief and overwhelming guilt but it also asks whether Carver should be held criminally responsible for his decision to text his friend. So while Carver is trying to deal with the death of 3 friends, he is worried that he may have to go to jail because of the accident. It is really not surprising when Carver has a panic attack when you think of how much he is going through. He eventually goes to therapy and I think that it is a really important part of the novel that is handled very well.
Carver and his friends, Mars, Eli, and Blake, called themselves the Sauce Crew. Carver and the family members of his friends get together to remember those that they love in what they call a Goodbye Day. It is a day to also get to know facets of that person that they didn't get to see. Each person shares different parts of themselves with different people and by coming together they can learn a little bit more about who the person was that they lost. These were my favorite parts of the book.
I loved the writing. I thought that Carver's memories of his friends really helped the reader get to know how important their friendship was and how big of a loss it really was for him. The pacing was very well done with some funny or light hearted moments showing up at just the right times. I think that this book really deals with some tough issues and does it remarkably well. This was the kind of book that I really didn't want to put down.
I would highly recommend this book to others. It was very emotional at times and I may have even shed a tear or two. I am very glad that I made the decision to read this book and look forward to reading more from this talented author soon.
I received an advance reader edition of this book from Crown Books for Young Readers via Blogging for Books.
About the Author


Jeff Zentner is the acclaimed author of The Serpent King. In addition to writing, he is also a singer-songwriter and guitarist who has recorded with Iggy Pop, Nick Cave, and Debbie Harry. Goodbye Days is his love letter to the city of Nashville and the talented people who populate it. He lives in Nashville with his wife and son. You can follow him on Facebook, on Instagram, and on Twitter at @jeffzentner.