It's Tuesday! That means it is time to make a little bit of room on the bookshelves, load up your ereader, or make your way to your local library. In other words - It is time to get your hands on a new book!
Here are just a few books that have just been released that you may want to grab soon:
Eleanor Oliphant is Completely Fine by Gail Honeyman
Find it at:
Goodreads
|
Booklikes
|
LibraryThing
Smart, warm, uplifting, the story of an out-of-the-ordinary heroine whose deadpan weirdness and unconscious wit make for an irresistible journey as she realizes the only way to survive is to open her heart

Meet Eleanor Oliphant: she struggles with appropriate social skills and tends to say exactly what she's thinking. That, combined with her unusual appearance (scarred cheek, tendency to wear the same clothes year in, year out), means that Eleanor has become a creature of habit (to say the least) and a bit of a loner. Nothing is missing in her carefully timetabled life of avoiding social interactions, where weekends are punctuated by frozen pizza, vodka, and phone chats with Mummy.

But everything changes when Eleanor meets Raymond, the bumbling and deeply unhygienic IT guy from her office. When she and Raymond together save Sammy, an elderly gentleman who has fallen on the sidewalk, the three become the kind of friends who rescue each other from the lives of isolation they have each been living. And it is Raymond's big heart that will ultimately help Eleanor find the way to repair her own profoundly damaged one.

Eleanor Oliphant is Completely Fine is the story of a quirky yet lonely woman whose social misunderstandings and deeply ingrained routines could be changed forever—if she can bear to confront the secrets she has avoided all her life. But if she does, she'll learn that she, too, is capable of finding friendship—and even love—after all.
Find it at:
Me Before You meets One Day in this devastatingly romantic debut novel about the enduring power of first love with a shocking, unforgettable ending. A Love Story for a new generation.

He was the first person to inspire her, to move her, to truly understand her. Was he meant to be the last?

Lucy is faced with a life-altering choice. But before she can make her decision, she must start her story—their story—at the very beginning.

Lucy and Gabe meet as seniors at Columbia University on a day that changes both of their lives forever. Together, they decide they want their lives to mean something, to matter. When they meet again a year later, it seems fated—perhaps they'll find life's meaning in each other. But then Gabe becomes a photojournalist assigned to the Middle East and Lucy pursues a career in New York. What follows is a thirteen-year journey of dreams, desires, jealousies, betrayals, and, ultimately, of love. Was it fate that brought them together? Is it choice that has kept them away? Their journey takes Lucy and Gabe continents apart, but never out of each other's hearts.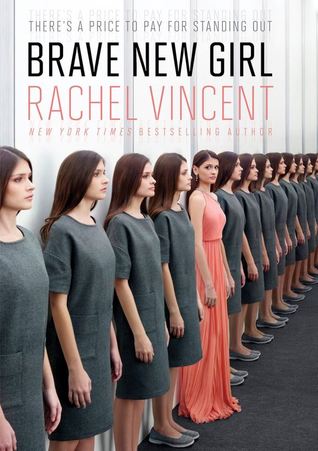 Brave New Girl by Rachel Vincent
Find it at:
Goodreads
|
Booklikes
|
LibraryThing
In a world where everyone is the same, one girl is the unthinkable: unique. A high-stakes fast-paced series launch from New York Times bestselling author Rachel Vincent.

We have brown hair. Brown eyes. Fair skin.
We are healthy and strong and smart.
But only one of us has ever had a secret.

Dahlia 16 sees her face in every crowd. She's nothing special—just one of five thousand girls created from a single genome to work for the greater good of the city.

Meeting Trigger 17 changes everything. He thinks she's interesting. Beautiful. Unique. Which means he must be flawed. When Dahlia can't stop thinking about him—when she can't resist looking for him, even though that means breaking the rules—she realizes she's flawed, too. But if she's flawed, then so are all her identicals. And any genome found to be flawed will be recalled.
Destroyed.

Getting caught with Trigger would seal not only Dahlia's fate, but that of all five thousand girls who share her face. But what if Trigger is right? What if Dahlia is different?
Suddenly the girl who always follows the rules is breaking them, one by one by one. . . .
Woman No. 17 by Edan Lepucki
Find it at:
Goodreads
|
Booklikes
|
LibraryThing
Amazon
|
Barnes & Noble
|
Kobo
|
BAM!
A sinister, sexy noir about art, motherhood, and the intensity of female friendships, set in the posh hills above Los Angeles, from the New York Times bestselling author of California.

High in the Hollywood Hills, writer Lady Daniels has decided to take a break from her husband. She's going to need a hand with her young son if she's ever going to finish her memoir. In comes S., a magnetic young artist, who will live in the secluded guest house out back, care for Lady's young toddler son, and keep a watchful eye on her older, teenage, one. S. performs her day job beautifully, quickly drawing the entire family into her orbit, and becoming a confidante for Lady. But as the summer wears on, S.'s connection to Lady's older son takes a disturbing, and possibly destructive, turn. Lady and S. will move closer to one another as they both threaten to harm the things they hold most dear.

Darkly comic, twisty and tense, this mesmerizing new novel defies expectation and proves Edan Lepucki to be one of the most talented and exciting voices of her generation.
More Great Books Being Released Today
(Covers link to Goodreads)
What new releases are you excited about this week?