It's Tuesday! That means it is time to make a little bit of room on the bookshelves, load up your ereader, or make your way to your local library. In other words - It is time to get your hands on a new book!
Here are just a few books that have just been released that you may want to grab soon: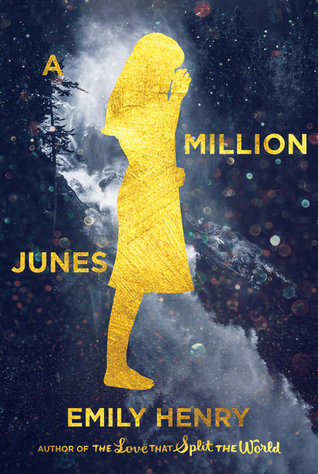 A Million Junes by Emily Henry
Find it at:
Goodreads
|
Booklikes
|
LibraryThing
Romeo and Juliet meets One Hundred Years of Solitude in Emily Henry's brilliant follow-up to The Love That Split the World, about the daughter and son of two long-feuding families who fall in love while trying to uncover the truth about the strange magic and harrowing curse that has plagued their bloodlines for generations.

In their hometown of Five Fingers, Michigan, the O'Donnells and the Angerts have mythic legacies. But for all the tall tales they weave, both founding families are tight-lipped about what caused the century-old rift between them, except to say it began with a cherry tree.

Eighteen-year-old Jack "June" O'Donnell doesn't need a better reason than that. She's an O'Donnell to her core, just like her late father was, and O'Donnells stay away from Angerts. Period.

But when Saul Angert, the son of June's father's mortal enemy, returns to town after three mysterious years away, June can't seem to avoid him. Soon the unthinkable happens: She finds she doesn't exactly hate the gruff, sarcastic boy she was born to loathe.

Saul's arrival sparks a chain reaction, and as the magic, ghosts, and coywolves of Five Fingers conspire to reveal the truth about the dark moment that started the feud, June must question everything she knows about her family and the father she adored. And she must decide whether it's finally time for her—and all of the O'Donnells before her—to let go.
Find it at:
From the #1 New York Times bestselling author of The Wrath and the Dawn, comes a sweeping, action-packed YA adventure set against the backdrop of Feudal Japan where Mulan meets Throne of Glass.

The daughter of a prominent samurai, Mariko has long known her place—she may be an accomplished alchemist, whose cunning rivals that of her brother Kenshin, but because she is not a boy, her future has always been out of her hands. At just seventeen years old, Mariko is promised to Minamoto Raiden, the son of the emperor's favorite consort—a political marriage that will elevate her family's standing. But en route to the imperial city of Inako, Mariko narrowly escapes an ambush by a dangerous gang of bandits known as the Black Clan, who she learns has been hired to kill her before she reaches the palace.

Dressed as a peasant boy, Mariko decides to infiltrate the ranks of the Black Clan, determined to track down the person responsible for the target on her back. But she's quickly captured and taken to the Black Clan's secret lair, where she meets their leader, the rebel ronin Takeda Ranmaru, and his second-in-command, his best friend Okami. Ranmaru and Okami eventually warm to her, impressed by her intellect and ingenuity, though they still believe her to be a boy. As Mariko gets closer to the Black Clan, she uncovers a dark history of secrets, of betrayal and murder, which will force her to question everything she's ever known.
Hunger by Eve Langlais, Kate Douglas, & A.C. Arthur
Find it at:
Goodreads
|
Booklikes
|
LibraryThing
Three hot stories about three sexy shifters from a trio of today's hottest paranormal romance authors, headlined by bestselling author Eve Langlais!
A brand new, never before published novella!

In The Alpha's Mate, villains aren't supposed to rescue damsels, and pack alphas are known to have complete control of their wolf. But when Fabian saves a certain lady from drowning, everything he knows gets tossed away and only one thing becomes clear: she's his mate—and someone wants to kill her. Hell no. Protecting her, though, is only part of his problem. He also has to convince her she belongs to him. In her words, "Hell no." When she flees, little does she realize this wolf loves to chase. And when he catches the woman he wants? She'll become the Alpha's Mate.

Previously published in the 2-in-1 e-original Claimed by the Mate Volume 3 and in print for the first time!

In Dangerous Passions, finding a mate shouldn't be all that difficult for a sexy werewolf on the prowl. Modern women want romance and seduction, and Feral Passions Resort has served that purpose for providing both for the men of the Trinity Alps pack. Only two are still unmated—alpha leader Traker Jakes and his lieutenant Evan Dark—but danger stalks the women they've chosen. Danger that threatens everyone in the pack at Feral Passions.

In Bound to the Wolf, Marena Panos is an attorney with a dark secret that follows her into the mountains and into the bed of a Phelan Sava, a lycan whose strength and shared penchant for pleasure/pain will eventually own her body and soul.
Lethal Lies by Rebecca Zanetti
Find it at:
Goodreads
|
Booklikes
|
LibraryThing
Amazon
|
Barnes & Noble
|
Kobo
|
BAM!
New York Times bestselling author Rebecca Zanetti brings us the second book in a thrilling romantic suspense series.

A deadly secret can't stay buried forever . . .

Revenge. It's the only thing that will help Anya Best sleep at night. The serial killer who murdered her sister is on the loose, and Anya will stop at nothing to put him behind bars-even use herself as bait to lure him out of hiding. But she can't do this alone.

Private investigator Heath Jones's job is to bring bastards to justice. This time it's personal. He knew the Copper Killer's latest victim so when her sister asks for his help, he's all in. But when Anya uses the media to taunt the killer, she exposes Heath's identity, putting them both in jeopardy. Now, secrets buried long ago are coming to light and the forces determined to destroy him are watching Heath's every move, waiting to exact their own revenge. And they'll use anything and anyone to get to Heath.

With twists and turns that will take your breath away, LETHAL LIES is sexy, action-packed suspense at its very best from New York Times bestselling author Rebecca Zanetti.
More Great Books Being Released Today
(Covers link to Goodreads)
What new releases are you excited about this week?