Blog Tour Review - White Hot by Ilona Andrews Excerpt Giveaway @ilona_andrews @avonbooks @TastyBookTours
I am so excited to be a part of the blog tour for
White Hot
! I absolutely love this series and can't wait for everyone to get a chance to read this amazing book. Be sure to enter the giveaway at the bottom of the post for a chance to win a copy of
Burn for Me
which is the starting point for Nevada and Rogan's story. Be sure to
Follow the Tour
!
White Hot by Ilona Andrews
Series: Hidden Legacy #2
Publisher: Avon Books
Publication Date: May 30, 2017
Date Read: May 28, 2017 (2nd read)
Length: 389 pages
Source: Edelweiss
★★★★★
The Hidden Legacy series by #1 New York Times bestselling author Ilona Andrews continues as Nevada and Rogan navigate a world where magic is the norm . . . and their relationship burns hot.

Nevada Baylor has a unique and secret skill—she knows when people are lying—and she's used that magic (along with plain, hard work) to keep her colorful and close-knit family's detective agency afloat. But her new case pits her against the shadowy forces that almost destroyed the city of Houston once before, bringing Nevada back into contact with Connor "Mad" Rogan.

Rogan is a billionaire Prime—the highest rank of magic user—and as unreadable as ever, despite Nevada's "talent." But there's no hiding the sparks between them. Now that the stakes are even higher, both professionally and personally, and their foes are unimaginably powerful, Rogan and Nevada will find that nothing burns like ice.


I loved this book so much! I really wish that I could give it more than 5 stars because it has an extra layer of awesome that you don't often find. I have been wanting to get my hands on this book ever since I finished
Burn for Me
back in 2014 and it turns out that it was worth the wait. I have already read this book twice and I know that I will be reading it many more times in the future. It is really that good.
One of the things that I love the most about this book are the characters. I really can't get enough of them. Mad Rogan is a powerful man that is feared by many. He can move buildings...literally. He is sexy and doesn't care what anyone thinks of him. Nevada really is learning what she is capable of in this book and it turns out she is much more than simply a lie detector. She is smart and thinks on her feet. She is very focused on doing what is right and protecting her family.
I loved the changes in the relationship between Mad Rogan and Nevada. This is really a pivotal book in terms of their relationship with each other. I really enjoyed all of their scenes together whether they were related to the case or extracurricular activities. You can really see how they feel about each other anytime they showed up on the page together and the build up was really off the charts.
Nevada starts working on a case involving a murder after Cornelius shows up at her office with his young daughter and an assortment of animals in tow. His wife was murdered in service to another house and nobody seems to want to look into it. Rogan gets involved and they find themselves trying to solve a much bigger conspiracy that is tied to several important houses. There was a lot of excitement and they worked to solve the case and I had more than a few moments where I was sitting on the edge of my seat wondering how things would work out.
I would recommend this book to everyone who likes an exciting story set in a wonderful world. This is the second book in the Hidden Legacy series and I do recommend that you read the series in order. You really can't go wrong with this book because the story is exciting, the characters are some of the best I have ever read, and there are a few lighter moments to really even things out including a covert team of ferrets. I am an avid fan of Ilona Andrews and can't wait to read the next book in this fantastic series.
I received an advanced reader edition of this book from Avon Books via Edelweiss.
Hidden Legacy Series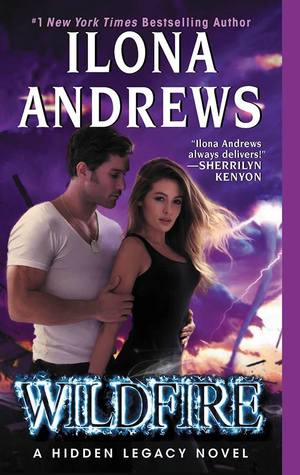 Book #1 -
Burn for Me
-
My Review
Book #2 -
White Hot
- Now Available!
Book #3 -
Wildfire
- Coming July 25, 2017!
About the Author




"Ilona Andrews" is the pseudonym for a husband-and-wife writing team. Ilona is a native-born Russian and Gordon is a former communications sergeant in the U.S. Army. Contrary to popular belief, Gordon was never an intelligence officer with a license to kill, and Ilona was never the mysterious Russian spy who seduced him. They met in college, in English Composition 101, where Ilona got a better grade. (Gordon is still sore about that.) They have co-authored two New York Times and USA Today bestselling series—the urban fantasy of Kate Daniels and the romantic urban fantasy of The Edge—and are working on the next volumes for both. They live in Texas with their two children and many dogs and cats.