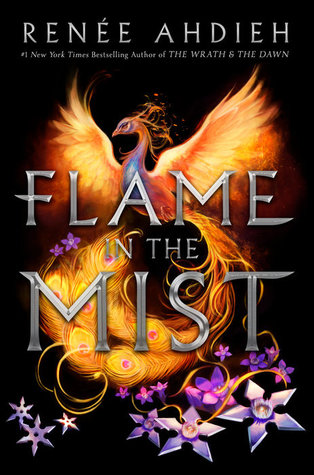 Flame in the Mist by Renée Ahdieh
Series: Flame in the Mist #1
Publisher: G.P. Putnam's Sons Books for Young Readers
Publication Date: May 16, 2017
Date Read: April 5, 2017
Source: First to Read
★
★
★
★
☆
From the #1 New York Times bestselling author of The Wrath and the Dawn, comes a sweeping, action-packed YA adventure set against the backdrop of Feudal Japan where Mulan meets Throne of Glass.

The daughter of a prominent samurai, Mariko has long known her place—she may be an accomplished alchemist, whose cunning rivals that of her brother Kenshin, but because she is not a boy, her future has always been out of her hands. At just seventeen years old, Mariko is promised to Minamoto Raiden, the son of the emperor's favorite consort—a political marriage that will elevate her family's standing. But en route to the imperial city of Inako, Mariko narrowly escapes an ambush by a dangerous gang of bandits known as the Black Clan, who she learns has been hired to kill her before she reaches the palace.

Dressed as a peasant boy, Mariko decides to infiltrate the ranks of the Black Clan, determined to track down the person responsible for the target on her back. But she's quickly captured and taken to the Black Clan's secret lair, where she meets their leader, the rebel ronin Takeda Ranmaru, and his second-in-command, his best friend Okami. Ranmaru and Okami eventually warm to her, impressed by her intellect and ingenuity, though they still believe her to be a boy. As Mariko gets closer to the Black Clan, she uncovers a dark history of secrets, of betrayal and murder, which will force her to question everything she's ever known.


I really enjoyed this book. I went into it not really knowing what to expect. I hadn't read anything by Renée Ahdieh before this book but had heard great things about her work. I saw so many comparisons of this book to Mulan that I was a little fearful that this would just be a rehashing of a very familiar story. I had no reason to worry since this was really a very original story. This was one of those books that I found myself thinking about during the times that I couldn't read.
Mariko is on her way to be married when her entourage is attacked. She is able to escape to safety but she has no idea how long she will be able to remain safe. She decides to dress as a boy and find the group that tried to kill her. She does find them and is eventually taken back to their camp. Things start out hard at the camp and she is treated as a prisoner. Eventually, she earns some trust and gets to know some of the members of the group.
The way this story was written really just pulled me in. Everything flowed so perfectly and the pacing was well done. I liked this author's voice a lot. It seemed that the words all came together almost magically to create a story that was beautiful and entertaining. There are a lot of really exciting scenes that are offset by others that are more thoughtful.
The characters were amazing. Mariko is smart and determined. She learns a lot of really hard truths over the course of this story and is able to accept them and decide how to proceed with her life. Okami was a bit of a mystery which I really liked. He was obviously drawn to Mariko almost immediately and I liked the tension between them. They had some really great banter that was a lot of fun.
I would highly recommend this book to others. This is a really great start to a new and exciting series. I seriously did not want it to end and can't wait to find out what happens next!
I received an advance reader edition of this book from G.P. Putnam's Sons Books for Young Readers via First to Read.
About the Author


Renée Ahdieh is a graduate of the University of North Carolina at Chapel Hill. In her spare time, she likes to dance salsa and collect shoes. She is passionate about all kinds of curry, rescue dogs, and college basketball. The first few years of her life were spent in a high-rise in South Korea; consequently, Renée enjoys having her head in the clouds. She lives in Charlotte, North Carolina, with her husband and their tiny overlord of a dog. She is the author of the #1 New York Times bestselling The Wrath and the Dawn and The Rose and the Dagger.