It's Tuesday! That means it is time to make a little bit of room on the bookshelves, load up your ereader, or make your way to your local library. In other words - It is time to get your hands on a new book!
Here are just a few books that have just been released that you may want to grab soon: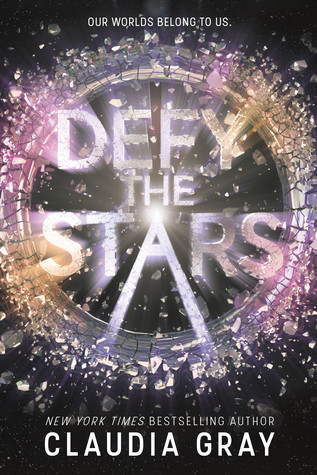 Defy the Stars by Claudia Gray
Find it at:
Goodreads
|
Booklikes
|
LibraryThing
Noemi Vidal is a teen soldier from the planet Genesis, once a colony of Earth that's now at war for its independence. The humans of Genesis have fought Earth's robotic "mech" armies for decades with no end in sight.

After a surprise attack, Noemi finds herself stranded in space on an abandoned ship where she meets Abel, the most sophisticated mech prototype ever made. One who should be her enemy. But Abel's programming forces him to obey Noemi as his commander, which means he has to help her save Genesis--even though her plan to win the war will kill him.

Together they embark on a daring voyage through the galaxy. Before long, Noemi begins to realize Abel may be more than a machine, and, for his part, Abel's devotion to Noemi is no longer just a matter of programming.
Find it at:
In the gripping sequel to Sleeping Giants, which was hailed by Pierce Brown as "a luminous conspiracy yarn . . . reminiscent of The Martian and World War Z," Sylvain Neuvel's innovative series about human-alien contact takes another giant step forward.

As a child, Rose Franklin made an astonishing discovery: a giant metallic hand, buried deep within the earth. As an adult, she's dedicated her brilliant scientific career to solving the mystery that began that fateful day: Why was a titanic robot of unknown origin buried in pieces around the world? Years of investigation have produced intriguing answers—and even more perplexing questions. But the truth is closer than ever before when a second robot, more massive than the first, materializes and lashes out with deadly force.

Now humankind faces a nightmare invasion scenario made real, as more colossal machines touch down across the globe. But Rose and her team at the Earth Defense Corps refuse to surrender. They can turn the tide if they can unlock the last secrets of an advanced alien technology. The greatest weapon humanity wields is knowledge in a do-or-die battle to inherit the Earth . . . and maybe even the stars.
72 Hours by Bella Jewel
Find it at:
Goodreads
|
Booklikes
|
LibraryThing
A FATE WORSE THAN DEATH.
It's all part of his sick game. A game he's been planning for an entire decade. Now everything is perfect: One woman and one man have been selected. They used to be a couple—and they can no longer stand one another. They are the perfect victims. He doesn't intend for the game to be easy. He wants to push them to the brink of insanity, to make his hunt real. . .

A DESIRE WORTH FIGHTING FOR. . .
The couple has been captured and dumped into a massive wooded area. There's only one rule in this fatal game: They will have 72 hours to find a way out before the sadistic serial killer begins his hunt . . .But what he never could have expected was the explosive passion that ignites between the two ex-lovers—one that makes them strong. Fierce. And determined to do whatever it takes to escape—and to survive. . .
The Chosen by J.R. Ward
Find it at:
Goodreads
|
Booklikes
|
LibraryThing
Amazon
|
Barnes & Noble
|
Kobo
|
BAM!
A scorching forbidden love threatens to tear a rift through the Black Dagger Brotherhood in J. R. Ward's newest novel in the #1 New York Times bestselling series.

Xcor, leader of the Band of Bastards, convicted of treason against the Blind King, is facing a brutal interrogation and torturous death at the hands of the Black Dagger Brotherhood. Yet after a life marked by cruelty and evil deeds, he accepts his soldier's fate, his sole regret the loss of a sacred female who was never his: the Chosen Layla.

Layla alone knows the truth that will save Xcor's life. But revealing his sacrifice and his hidden heritage will expose them both and destroy everything Layla holds dear—even her role of mother to her precious young. Torn between love and loyalty, she must summon the courage to stand up against the only family she has for the only man she will ever love. Yet even if Xcor is somehow granted a reprieve, he and Layla would have to confront a graver challenge: bridging the chasm that divides their worlds without paving the way for a future of even greater war, desolation, and death.

As a dangerous old enemy returns to Caldwell, and the identity of a new deity is revealed, nothing is certain or safe in the world of the Black Dagger Brotherhood, not even true love . . . or destinies that have long seemed set in stone.
More Great Books Being Released Today
(Covers link to Goodreads)
What new releases are you excited about this week?