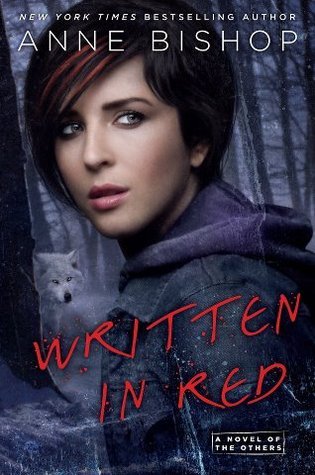 Written in Red by Anne Bishop
Series: The Others #1
Berkley Publishing Group - Roc
Publication Date: March 5, 2013
Date Read: February 25, 2017
Source: Purchased
★
★
★
★
★
No one creates realms like New York Times bestselling author Anne Bishop. Now in a thrilling new fantasy series, enter a world inhabited by the Others, unearthly entities—vampires and shape-shifters among them—who rule the Earth and whose prey are humans.

As a cassandra sangue, or blood prophet, Meg Corbyn can see the future when her skin is cut—a gift that feels more like a curse. Meg's Controller keeps her enslaved so he can have full access to her visions. But when she escapes, the only safe place Meg can hide is at the Lakeside Courtyard—a business district operated by the Others.

Shape-shifter Simon Wolfgard is reluctant to hire the stranger who inquires about the Human Liaison job. First, he senses she's keeping a secret, and second, she doesn't smell like human prey. Yet a stronger instinct propels him to give Meg the job. And when he learns the truth about Meg and that she's wanted by the government, he'll have to decide if she's worth the fight between humans and the Others that will surely follow.


I loved just about everything about this book! I can't believe that I waited so long to finally start reading this series. I bought this book 2 years ago but for some reason never actually started reading it. I should have read it then but I am making up for lost time now. Once I really started getting hooked on this book, I didn't want to stop. This is one of those rare books that make me want to lose myself in the world within its pages.
Meg is pretty awesome. Since I don't usually read book summaries before starting books, I had no idea what was going on with Meg. I was as lost about who and what she was as Simon, Henry, Tess, and all the others at the courtyard. I figured out pretty early on that she was smart, tough, and able to think on her feet. She went about doing things in a completely unorthodox manner but she tended to get results. There was an innocence about Meg that I liked and I also liked the fact that she was willing to take suggestions and input from others.
The world building was amazing. I read the first part of the book at a pretty slow pace largely because I wanted to make sure that I was completely taking in this world that Meg is a part of. The attitude and feelings between the humans and the Others was quite original. As a human, I have never thought of myself as meat but I suppose it is all in how you look at a situation. The Courtyard was a world on its own. I liked the idea of shops open to both humans and the Others and it was interesting to witness some of the interactions.
The story had so much going for it. Everything that happened with Sam really helped me see just how special Meg and Simon really were. The Elementals and Vampires on this world were very original and powerful. The pacing of the book was very well done and by the end of the story, I couldn't turn the pages fast enough. The writing was at times detailed but I think everything added to the story.
I would highly recommend this book to others. I am planning to binge read this entire series because I am so taken with this world and its characters.
About the Author




Photo: © Merri Lee Debany

New York Times bestselling author Anne Bishop is a winner of the William L. Crawford Memorial Fantasy Award, presented by the International Association for the Fantastic in the Arts, for The Black Jewels Trilogy. She lives in upstate New York.