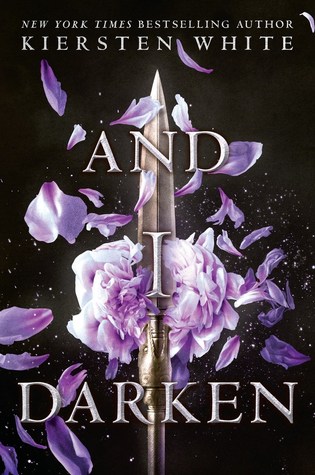 And I Darken by Kiersten White
Series: The Conqueror's Saga #1
Publisher: Random House Children's Delacorte Press
Publication Date: June 28, 2016
Date Read: March 25, 2017
Source: NetGalley
★
★
★
★
☆
This vividly rendered novel reads like HBO's Game of Thrones . . . if it were set in the Ottoman Empire. Ambitious in scope and intimate in execution, the story's atmospheric setting is rife with political intrigue, with a deftly plotted narrative driven by fiercely passionate characters. Fans of Victoria Aveyard's THE RED QUEEN, Kristin Cashore's GRACELING, and Sabaa Tahir's AN EMBER IN THE ASHES won't want to miss this visceral, immersive, and mesmerizing novel, the first in a trilogy.

NO ONE EXPECTS A PRINCESS TO BE BRUTAL. And Lada Dragwlya likes it that way. Ever since she and her gentle younger brother, Radu, were wrenched from their homeland of Wallachia and abandoned by their father to be raised in the Ottoman courts, Lada has known that being ruthless is the key to survival. She and Radu are doomed to act as pawns in a vicious game, an unseen sword hovering over their every move. For the lineage that makes them special also makes them targets.

Lada despises the Ottomans and bides her time, planning her vengeance for the day when she can return to Wallachia and claim her birthright. Radu longs only for a place where he feels safe. And when they meet Mehmed, the defiant and lonely son of the sultan, who's expected to rule a nation, Radu feels that he's made a true friend—and Lada wonders if she's finally found someone worthy of her passion.

But Mehmed is heir to the very empire that Lada has sworn to fight against—and that Radu now considers home. Together, Lada, Radu, and Mehmed form a toxic triangle that strains the bonds of love and loyalty to the breaking point.

From New York Times bestselling author Kiersten White comes the first book in a dark, sweeping new series in which heads will roll, bodies will be impaled . . . and hearts will be broken.

This was a truly epic story. This story spans a lot of years and tells a sometimes brutal story. I was hooked by the book from almost the first page. I really couldn't get my mind to focus on anything besides this story until I had reached the end. It was a bigger story than I had expected with a lot of intricately woven layers. The characters were amazingly written and I found myself cheering for both Lada and Radu. I thoroughly enjoyed reading this wonderful book.
Lada is the daughter of Vlad and she is fierce. The book opens at her birth and even as a very young child, Lada is brutal when needed. Her brother, Radu, does not share the same trait. In every way that Lada is brave and fierce, Radu is sensitive and needs protection. Her father is force to leave both Lada and Radu in the Ottoman courts and they fear that they may never see Wallachia again.
By chance, Lada and Radu cross paths with Mehmed as children and from an unlikely friendship. Mehmed is third in line to the throne of the Ottoman empire, a throne he knows he will most likely never hold. He keeps Lada and Radu by his side largely because Lada will not treat him as anything but her equal.
I enjoyed the characters in this story. Going into the book, I thought I would fall in love with Lada. Who doesn't love a fierce female character that can hold her own? She isn't pretty but she is brave. I did like Lada a lot but I was more taken with her brother's character, Radu. I didn't realize that there would be as much of a focus on Radu in the story as there was. Radu really grew as a character over the course of the book and he was a character that I found I had a lot of respect for. He was really as resourceful as his sister and could be brave when it was necessary. Mehmed is a character that really left me with conflicting feelings since there were things I loved about him and other things I disliked.
The setting of the story was perfectly written. I really could envision this place filled with uncertainty and brutality. The descriptions of everything from the Head Gardeners duties to life in the harem really helped to bring this world to life. I thought that the descriptions of religion in the story was well done and I liked that it was an important part of some of the characters' lives.
I would highly recommend this book to others. The story really has so many great elements from the historical setting, great characters, political intrigue, and even a bit of romance. I can't wait to get my hands on the next book in this planned trilogy!
I received an advance reader edition of this book from Random House Children's - Delacorte Press via NetGalley
About the Author




KIERSTEN WHITE is the New York Times bestselling author of And I Darken, Now I Rise, the Paranormalcy trilogy, the dark thrillers Mind Games and Perfect Lies, The Chaos of Stars, Illusions of Fate, and In the Shadows with Jim Di Bartolo. Her books have won several awards, including the Utah Book Award, the Evergreen Young Adult Book Award, and the Whitney Award, and have been named an ALA-YALSA Teen Top Ten Best Book, a Florida Teens Read Selection, and a Texas Lone Star Reading List Selection, among other accolades. She lives with her family near the ocean in San Diego, which, in spite of its perfection, spurs her to dream of faraway places and even further away times.