It's Tuesday! That means it is time to make a little bit of room on the bookshelves, load up your ereader, or make your way to your local library. In other words - It is time to get your hands on a new book!
Here are just a few books that have just been released that you may want to grab soon: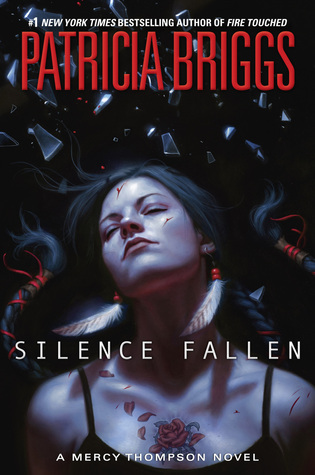 Silence Fallen by Patricia Briggs
Find it at:
Goodreads
|
Booklikes
|
LibraryThing
In the #1 New York Times bestselling Mercy Thompson novels, the coyote shapeshifter has found her voice in the werewolf pack. But when Mercy's bond with the pack and her mate is broken, she'll learn what it truly means to be alone...

Attacked and abducted in her home territory, Mercy finds herself in the clutches of the most powerful vampire in the world, taken as a weapon to use against alpha werewolf Adam and the ruler of the Tri-Cities vampires. In coyote form, Mercy escapes only to find herself without money, without clothing, and alone in the heart of Europe...

Unable to contact Adam and the rest of the pack, Mercy has allies to find and enemies to fight, and she needs to figure out which is which. Ancient powers stir, and Mercy must be her agile best to avoid causing a war between vampires and werewolves, and between werewolves and werewolves. And in the heart of the ancient city of Prague, old ghosts rise...
Find it at:
Luciana grew up on the Isle of Moon, hidden away because of her magical powers. But when her father arrives, he offers her a choice: remain on the island or return with him and marry the Beast of Benwick in order to save their legacy—and her father's life.

Lord Leofric, the Beast of Benwick, has not been touched since he was a child. Born with the power to harness lightning, he is a danger to everyone he touches. When he meets his betrothed, he expects a loveless, lonely marriage...until he discovers she's vastly more powerful than he realized. But is she strong enough to withstand his touch?

If they can survive, their love will alter the future of the kingdom. But will their extraordinary powers cost them everything?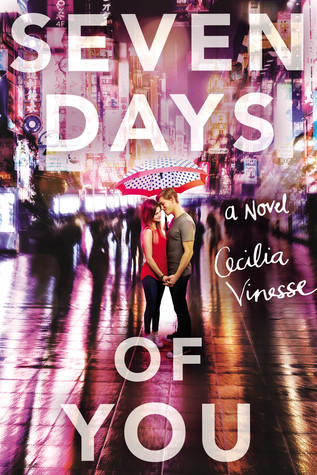 Seven Days of You by Cecilia Vinesse
Find it at:
Goodreads
|
Booklikes
|
LibraryThing
Sophia has seven days left in Tokyo before she moves back to the States. Seven days to say good-bye to the electric city, her wild best friend, and the boy she's harbored a semi-secret crush on for years. Seven perfect days…until Jamie Foster-Collins moves back to Japan and ruins everything.

Jamie and Sophia have a history of heartbreak, and the last thing Sophia wants is for him to steal her leaving thunder with his stupid arriving thunder. Yet as the week counts down, the relationships she thought were stable begin to explode around her. And Jamie is the one who helps her pick up the pieces. Sophia is forced to admit she may have misjudged Jamie, but can their seven short days of Tokyo adventures end in anything but good-bye?
Etched in Bone by Anne Bishop
Find it at:
Goodreads
|
Booklikes
|
LibraryThing
Amazon
|
Barnes & Noble
|
Kobo
|
BAM!
New York Times bestselling author Anne Bishop returns to her world of the Others, as humans struggle to survive in the shadow of shapeshifters and vampires far more powerful than themselves…

After a human uprising was brutally put down by the Elders—a primitive and lethal form of the Others—the few cities left under human control are far-flung. And the people within them now know to fear the no-man's-land beyond their borders—and the darkness…

As some communities struggle to rebuild, Lakeside Courtyard has emerged relatively unscathed, though Simon Wolfgard, its wolf shifter leader, and blood prophet Meg Corbyn must work with the human pack to maintain the fragile peace. But all their efforts are threatened when Lieutenant Montgomery's shady brother arrives, looking for a free ride and easy pickings.

With the humans on guard against one of their own, tensions rise, drawing the attention of the Elders, who are curious about the effect such an insignificant predator can have on a pack. But Meg knows the dangers, for she has seen in the cards how it will all end—with her standing beside a grave...
More Great Books Being Released Today
(Covers link to Goodreads)
What new releases are you excited about this week?