It's Tuesday! That means it is time to make a little bit of room on the bookshelves, load up your ereader, or make your way to your local library. In other words - It is time to get your hands on a new book!
Here are just a few books that have just been released that you may want to grab soon:
Never Let You Go by Chevy Stevens
Find it at:
Goodreads
|
Booklikes
|
LibraryThing
Eleven years ago, Lindsey Nash escaped into the night with her young daughter and left an abusive relationship. Her ex-husband was sent to jail and she started over with a new life. Now, Lindsey is older and wiser, with a teenage daughter who needs her more than ever. When her ex-husband is finally released, Lindsey believes she's cut all ties. But she gets the sense that someone is watching her. Her new boyfriend is threatened. Her home is invaded, and her daughter is shadowed. Lindsey is convinced it's her ex-husband, even though he claims he's a different person. But can he really change? Is the one who wants her dead closer to home than she thought?

Chevy Stevens targets her readership with a novel that hits all the notes they come to expect from her—and ratchets up the stakes even more in a novel that explores the darkest heart of love and obsession.
Find it at:
The breakout novel from the critically acclaimed author of the short story collections Who I Was Supposed to Be and Why They Run the Way They Do—when a middle school girl is abducted in broad daylight, a fellow student and witness to the crime copes with the tragedy in an unforgettable way.

What happens to the girl left behind?

A masked man with a gun enters a sandwich shop in broad daylight, and Meredith Oliver suddenly finds herself ordered to the filthy floor, where she cowers face to face with her nemesis, Lisa Bellow, the most popular girl in her eighth grade class. The minutes tick inexorably by, and Meredith lurches between comforting the sobbing Lisa and imagining her own impending death. Then the man orders Lisa Bellow to stand and come with him, leaving Meredith the girl left behind.

After Lisa's abduction, Meredith spends most days in her room. As the community stages vigils and searches, Claire, Meredith's mother, is torn between relief that her daughter is alive, and helplessness over her inability to protect or even comfort her child. Her daughter is here, but not.

Like Everything I Never Told You and Room, The Fall of Lisa Bellow is edgy and original, a hair-raising exploration of the ripple effects of an unthinkable crime. It is a dark, beautifully rendered, and gripping novel about coping, about coming-of-age, and about forgiveness. It is also a beautiful illustration of how one family, broken by tragedy, finds healing.
When My Sister Started Kissing by Helen Frost
Find it at:
Goodreads
|
Booklikes
|
LibraryThing
Claire and Abi have always loved their summers at the lake house, but this year, everything's different. Dad and Pam, their stepmom, are expecting a new baby, and they've cleared out all of Mom's belongings to make room. And last summer, Abi was looking at boys, but this summer, boys are looking back at her. While Abi sneaks around, Claire is left behind to make excuses and cover up for her. Claire doesn't want her family to change, but there doesn't seem to be a way of stopping it. By the end of their time at the house, the two sisters have learned that growing up doesn't have to mean their family growing apart.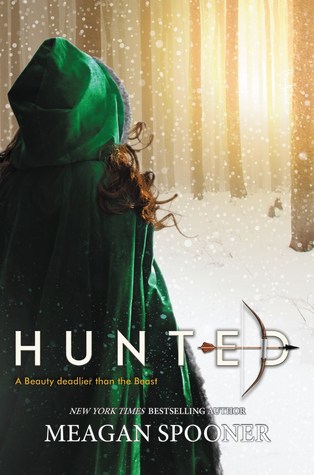 Hunted by Megan Spooner
Find it at:
Goodreads
|
Booklikes
|
LibraryThing
Amazon
|
Barnes & Noble
|
Kobo
|
BAM!
Beauty knows the Beast's forest in her bones—and in her blood. Though she grew up with the city's highest aristocrats, far from her father's old lodge, she knows that the forest holds secrets and that her father is the only hunter who's ever come close to discovering them.

So when her father loses his fortune and moves Yeva and her sisters back to the outskirts of town, Yeva is secretly relieved. Out in the wilderness, there's no pressure to make idle chatter with vapid baronessas…or to submit to marrying a wealthy gentleman. But Yeva's father's misfortune may have cost him his mind, and when he goes missing in the woods, Yeva sets her sights on one prey: the creature he'd been obsessively tracking just before his disappearance.

Deaf to her sisters' protests, Yeva hunts this strange Beast back into his own territory—a cursed valley, a ruined castle, and a world of creatures that Yeva's only heard about in fairy tales. A world that can bring her ruin or salvation. Who will survive: the Beauty, or the Beast?
More Great Books Being Released Today
(Covers link to Goodreads)
What new releases are you excited about this week?