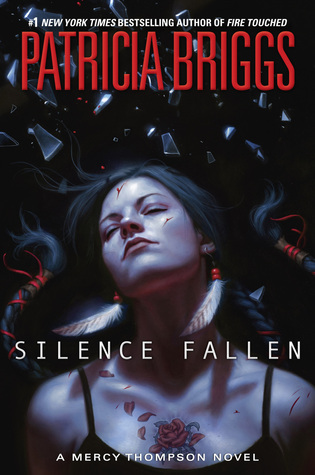 Silence Fallen by Patricia Briggs
Series: Mercy Thompson #10
Berkley Publishing Group - Ace
Publication Date: March 7, 2017
Date Read: November 13, 2016
Source: NetGalley
★
★
★
★
★
In the #1 New York Times bestselling Mercy Thompson novels, the coyote shapeshifter has found her voice in the werewolf pack. But when Mercy's bond with the pack and her mate is broken, she'll learn what it truly means to be alone...

Attacked and abducted in her home territory, Mercy finds herself in the clutches of the most powerful vampire in the world, taken as a weapon to use against alpha werewolf Adam and the ruler of the Tri-Cities vampires. In coyote form, Mercy escapes only to find herself without money, without clothing, and alone in the heart of Europe...

Unable to contact Adam and the rest of the pack, Mercy has allies to find and enemies to fight, and she needs to figure out which is which. Ancient powers stir, and Mercy must be her agile best to avoid causing a war between vampires and werewolves, and between werewolves and werewolves. And in the heart of the ancient city of Prague, old ghosts rise...

This book! Oh how I loved this book. This is such an amazing series that seems to be getting better and better with each book. I started reading this book the moment I had it downloaded on my ereader and finished it less than 24 hours later. I just couldn't put it down. I had to know that things would work out for Mercy, Adam, and the whole gang. This is the kind of book that I just love to read.
This is the tenth book in the Mercy Thompson series which I do recommend reading in order. The relationships between the characters have grown and developed over the course of the series and readers really need that knowledge to get the most out of this book. The series is absolutely amazing so you really don't want to miss any of it anyway.
This story is a little different than what I have come to expect from this series. Different in a good way though. Much of this book occurs away from home and I have to admit that this worried me. Have no fear. The awesomeness of this series is still there it just happens in a different location. The key characters from the series all do play a part in this book even though it occurs far from home. I actually think that the change in setting was a plus in this book since it added a new and unknown element.
Another difference that I was thrilled to see in this book is that part of the story is told from Adam's point of view. I was incredibly excited to get to read some of this story from Adam's perspective. We have had the opportunity to see so much of Adam over the course of the series and I found it really nice to finally get to spend some time in his head. This story really only would work well with another point of view and I am really glad that it came from Adam.
This book starts off with a bang. Actually, it starts off with cookies and then quickly gets exciting when Mercy is kidnapped and taken halfway around the world to Prague. Mercy is thought to be very powerful by her kidnappers and she must figure out how to outsmart them in order to save herself. The kidnappers have a head start but Adam isn't too far behind and he is willing to do what it takes to save his mate. There are some pretty awesome vampires, werewolves, and ghosts among other things. There were a few surprises along the way and at least one twist that totally floored me.
I would highly recommend this book to others. This is a book that I will definitely be reading again. Probably quite a few times. This is a truly great series that is dear to my heart. I can't wait to read more books about Mercy, Adam, and the gang as soon as I can get my hands on them.
I received an advance reader edition of this book from Berkley Publishing Group via NetGalley.
About the Author

Photo: © Mike Briggs

#1 New York Times bestselling author Patricia Briggs lives in Washington State with her husband, children, and a small herd of horses.