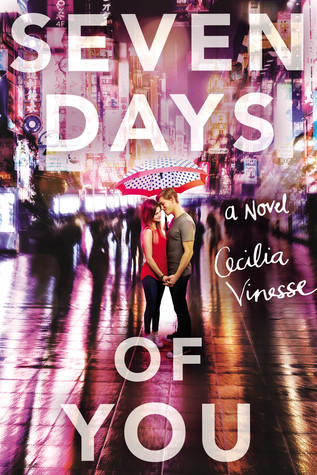 Seven Days of You by Cecilia Vinesse
Little, Brown Books for Young Readers
Publication Date: March 7, 2017
Date Read: February 18, 2017
Source: NetGalley & The Novl
★
★
★
★
☆
Sophia has seven days left in Tokyo before she moves back to the States. Seven days to say good-bye to the electric city, her wild best friend, and the boy she's harbored a semi-secret crush on for years. Seven perfect days…until Jamie Foster-Collins moves back to Japan and ruins everything.

Jamie and Sophia have a history of heartbreak, and the last thing Sophia wants is for him to steal her leaving thunder with his stupid arriving thunder. Yet as the week counts down, the relationships she thought were stable begin to explode around her. And Jamie is the one who helps her pick up the pieces. Sophia is forced to admit she may have misjudged Jamie, but can their seven short days of Tokyo adventures end in anything but good-bye?


I liked this story. I found it to be a really quick read and while it wasn't the perfect story, it did have a lot of things going for it. I thought that the range of emotions that Sophia goes through in this story really rang true. The book was a little different than I had expected from the description and while there was a romance featured in the story this book was about so much more than that.
Sophia is moving to the United States with her mom and sister in just one week. She has spent the past few years of her life living in Tokyo and that is where all of her friends and her life is. Moving is never easy but moving so far away where the possibility of seeing your friends is incredibly tough. Jamie is moving back to Tokyo after spending a couple of years at a boarding school in the United States. Jamie and Sophia didn't part on good terms when they last saw each other. Sophia really wishes that he had waited until she left to come back.
Sophia soon feels a connection to Jamie like she hadn't felt before. He seems to be there when she needs him and he somehow finds the right words for the situation. It was fun to watch this pair open up to each other and make a connection. It is really too bad that the time that they have together is so limited due to Sophia's upcoming move.
This book takes place in Tokyo and I was really looking forward to experiencing a bit of this area. Unfortunately, I didn't really get a feel for Tokyo from this story. Sophia attends an English speaking school and her friends are largely like her. There were some food items mentioned but other than that this story felt like it could have taken place anywhere.
In addition to moving and sorting out her feelings toward Jamie, Sophia is also saying goodbye to her friends in this story. I felt like some of the drama between Sophia and her friends was unnecessary. Another thing that Sophia has to figure out is her relationship with her father. This was really one of the strong points of the book. I felt really bad for Sophia and thought that the emotions portrayed were realistic.
I would recommend this book to others. I think that the author was able to create an interesting story around a very realistic teen. I am impressed by Cecilia Vinesse's debut novel and look forward to reading more from this author in the future.
I received an advance reader edition of this book from Little Brown Books for Young Readers via NetGalley and TheNovl.com.
About the Author


Cecilia Vinesse is a dual citizen of the US and the UK, and, like the main character of Seven Days of You, went to an international school in Tokyo. She is a graduate of Barnard College in New York and holds a master's degree in creative writing from St. Andrews. Seven Days of You is her debut novel. She lives in England.