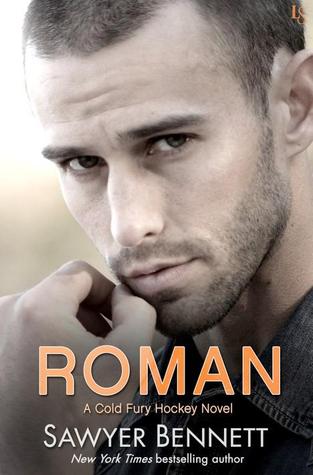 Roman by Sawyer Bennett
Series: Cold Fury Hockey #7
Random House Publishing Group - Loveswept
Publication Date: February 21, 2017
Date Read: February 12, 2017
Source: NetGalley
★
★
★
★
☆
New York Times bestselling author Sawyer Bennett steams up the ice all over again as the Carolina Cold Fury hockey team's hottest bad boy gets his first taste of something good.

In a league full of troublemakers, Cold Fury defenseman Roman Sýkora stands out—at least when it comes to negative publicity. When he's not chilling in the penalty box, the sizzling Czech skate demon is racking up tabloid headlines for his scandalous behavior with the ladies. But now Roman's feeling the burn from management to clean up his act, or else. Luckily he's got an enticing distraction: a fun-loving barista who plays the ukulele and brings out a side of Roman he didn't know he had.

Lexi Robertson came to Raleigh, North Carolina, to finally meet her father, Brian Brannon, and her half sister, Gray, both of whom work in the Cold Fury's front office. That's where she first meets sexy, intimidating Roman—who's really a big softie at heart. As one relationship takes off, another begins: Brian seems to be clicking with Lexi's boss at the coffee shop. But when the friction between Roman and her new family heats up, Lexi wonders whether she's a pawn in their game. Feeling hurt and foolish, Lexi's ready to quit while she's ahead. Trouble is, Roman's not ready to quit on her.




I really enjoyed this book. I was surprised by how many things were happening during the story and how nicely everything worked together. Although this is the seventh book in the Cold Fury Hockey series, it could be read as a stand alone novel since each book in the series really does tell its own story. Readers of the series will enjoy seeing characters from previous books play an important role in this installment. This was a story that hooked me right away and I found myself having a hard time setting the book aside.
Lexi is an amazing character and really the focus of this story. This book wasn't only focused on romance although romance played an important role. Lexi has moved to town in order to meet her father, who happens to be Brian Brannon, the owner of the Cold Fury Hockey Team. Lexi's father doesn't know anything about her until they meet. During her first trip to the Cold Fury office, Lexi meets Roman and there is an instant attraction.
I liked Lexi and Roman together and thought that they made a great couple. They just seemed really good for each other and had a lot of chemistry. It was fun watching bad boy Roman try to figure out how to be in a relationship. I also really liked watching the relationship between Lexi and her father develop. They accepted each other almost immediately and it seemed so right. Lexi's relationship with Gray was a little more painful to see develop but it felt completely realistic.
I really liked the fact that this book was told from three different points of view. I didn't expect it but it really worked well. Getting a chance to really see what was happening from Lexi, Roman, and Brian's point of view really made the story work. Each character had a lot of emotions wrapped up in everything that was going on and getting a chance to be in their head for part of the book just made everything feel more real.
I would recommend this book to fans of contemporary romance. This book really tells a big story with a lot of emotion and it was really nice to watch everything develop. I can't wait to read the next book in this fun series!
I received an advance reader edition of this book from Random House Publishing Group - Loveswept via NetGalley
.
Cold Fury Hockey Series
About the Author


Since the release of her debut contemporary romance novel, Off Sides, in January 2013, Sawyer Bennett has released more than 30 books and has been featured on both the USA Today and New York Times bestseller lists on multiple occasions.

A reformed trial lawyer from North Carolina, Sawyer uses real life experience to create relatable, sexy stories that appeal to a wide array of readers. From new adult to erotic contemporary romance, Sawyer writes something for just about everyone.

Sawyer likes her Bloody Mary's strong, her martinis dirty, and her heroes a combination of the two. When not bringing fictional romance to life, Sawyer is a chauffeur, stylist, chef, maid, and personal assistant to a very active toddler, as well as full-time servant to two adorably naughty dogs. She believes in the good of others, and that a bad day can be cured with a great work-out, cake, or a combination of the two.