It's Tuesday! That means it is time to make a little bit of room on the bookshelves, load up your ereader, or make your way to your local library. In other words - It is time to get your hands on a new book!
Here are just a few books that have just been released that you may want to grab soon:
I See You by Clare Mackintosh
Find it at:
Goodreads
|
Booklikes
|
LibraryThing
See my review!
Every morning and evening, Zoe Walker takes the same route to the train station, waits at a certain place on the platform, finds her favorite spot in the car, never suspecting that someone is watching her...

It all starts with a classified ad. During her commute home one night, while glancing through her local paper, Zoe sees her own face staring back at her; a grainy photo along with a phone number and a listing for a website called FindTheOne.com.

Other women begin appearing in the same ad, a different one every day, and Zoe realizes they've become the victims of increasingly violent crimes—including murder. With the help of a determined cop, she uncovers the ad's twisted purpose...A discovery that turns her paranoia into full-blown panic. Zoe is sure that someone close to her has set her up as the next target.

And now that man on the train—the one smiling at Zoe from across the car—could be more than just a friendly stranger. He could be someone who has deliberately chosen her and is ready to make his next move…
Find it at:
See my review!
Defending a woman accused of murdering the man who sexually assaulted her, Miami lawyer Jack Swyteck must uncover where the truth lies between innocence, vengeance, and justice in this spellbinding tale of suspense—based on shocking true-life events—from the bestselling author of Gone Again

According to the FBI, the most dangerous place for a woman between the ages of twenty and thirty is in a relationship with a man. Those statistics become all too personal when Jack Swyteck takes on a new client tied to his past.

It begins at the airport, where Jack is waiting to meet his old high school buddy, Keith Ingraham, a high-powered banker based in Hong Kong, coming to Miami for his young daughter's surgery. But their long-awaited reunion is abruptly derailed when the police arrest Keith's wife, Isabelle, in the terminal, accusing her of conspiring to kill the man who raped her in college. Jack quickly agrees to represent Isa, but soon discovers that to see justice done, he must separate truth from lies—an undertaking that proves more complicated than the seasoned attorney expects.

Inspired by an actual case involving a victim of sexual assault sent to prison for the death of her attacker, James Grippando's twisty thriller brilliantly explores the fine line between victim and perpetrator, innocence and guilt, and cold-blooded revenge and rightful retribution.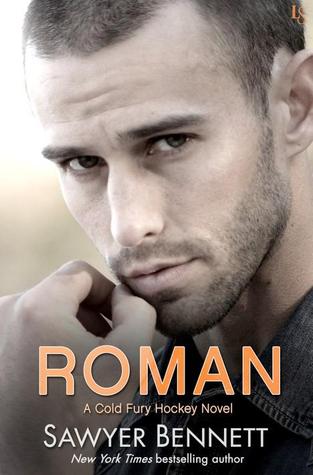 Roman by Sawyer Bennett
Find it at:
Goodreads
|
Booklikes
|
LibraryThing
See my review!
New York Times bestselling author Sawyer Bennett steams up the ice all over again as the Carolina Cold Fury hockey team's hottest bad boy gets his first taste of something good.

In a league full of troublemakers, Cold Fury defenseman Roman Sýkora stands out—at least when it comes to negative publicity. When he's not chilling in the penalty box, the sizzling Czech skate demon is racking up tabloid headlines for his scandalous behavior with the ladies. But now Roman's feeling the burn from management to clean up his act, or else. Luckily he's got an enticing distraction: a fun-loving barista who plays the ukulele and brings out a side of Roman he didn't know he had.

Lexi Robertson came to Raleigh, North Carolina, to finally meet her father, Brian Brannon, and her half sister, Gray, both of whom work in the Cold Fury's front office. That's where she first meets sexy, intimidating Roman—who's really a big softie at heart. As one relationship takes off, another begins: Brian seems to be clicking with Lexi's boss at the coffee shop. But when the friction between Roman and her new family heats up, Lexi wonders whether she's a pawn in their game. Feeling hurt and foolish, Lexi's ready to quit while she's ahead. Trouble is, Roman's not ready to quit on her.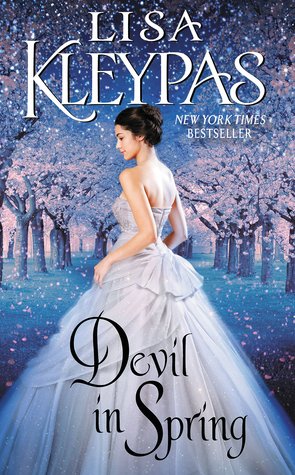 Devil in Spring by Lisa Kleypas
Find it at:
Goodreads
|
Booklikes
|
LibraryThing
Amazon
|
Barnes & Noble
|
Kobo
|
BAM!
An eccentric wallflower…

Most debutantes dream of finding a husband. Lady Pandora Ravenel has different plans. The ambitious young beauty would much rather stay at home and plot out her new board game business than take part in the London Season. But one night at a glittering society ball, she's ensnared in a scandal with a wickedly handsome stranger.

A cynical rake…

After years of evading marital traps with ease, Gabriel, Lord St. Vincent, has finally been caught-by a rebellious girl who couldn't be less suitable. In fact, she wants nothing to do with him. But Gabriel finds the high-spirited Pandora irresistible. He'll do whatever it takes to possess her, even if their marriage of convenience turns out to be the devil's own bargain.

A perilous plot…

After succumbing to Gabriel's skilled and sensuous persuasion, Pandora agrees to become his bride. But soon she discovers that her entrepreneurial endeavors have accidentally involved her in a dangerous conspiracy-and only her husband can keep her safe. As Gabriel protects her from their unknown adversaries, they realize their devil's bargain may just turn out to be a match made in heaven...
More Great Books Being Released Today
(Covers link to Goodreads)
What new releases are you excited about this week?