It's Tuesday! That means it is time to make a little bit of room on the bookshelves, load up your ereader, or make your way to your local library. In other words - It is time to get your hands on a new book!
Here are just a few books that have just been released that you may want to grab soon:
Into the Fire by Jeaniene Frost
Find it at:
Goodreads
|
Booklikes
|
LibraryThing
In the explosive finale to New York Times bestselling author Jeaniene Frost's Night Prince series, Vlad is in danger of losing his bride to an enemy whose powers might prove greater than the Prince of Vampire's….

In the wrong hands, love can be a deadly weapon.

For nearly six hundred years, Vlad Tepesh cared for nothing, so he had nothing to lose. His brutal reputation ensured that all but the most foolhardy stayed away. Now falling in love with Leila has put him at the mercy of his passions. And one adversary has found a devastating way to use Vlad's new bride against him.

A powerful spell links Leila to the necromancer Mircea. If he suffers or dies, so does she. Magic is forbidden to vampires, so Vlad and Leila enlist an unlikely guide as they search for a way to break the spell. But an ancient enemy lies in wait, capable of turning Vlad and Leila's closest friends against them…and finally tearing the lovers apart forever.
Find it at:
Inspired by the Black Lives Matter movement, Angie Thomas's searing debut about an ordinary girl in extraordinary circumstances addresses issues of racism and police violence with intelligence, heart, and unflinching honesty. Soon to be a major motion picture from Fox 2000/Temple Hill Productions.

Sixteen-year-old Starr Carter moves between two worlds: the poor neighborhood where she lives and the fancy suburban prep school she attends. The uneasy balance between these worlds is shattered when Starr witnesses the fatal shooting of her childhood best friend Khalil at the hands of a police officer. Khalil was unarmed.

Soon afterward, his death is a national headline. Some are calling him a thug, maybe even a drug dealer and a gangbanger. Protesters are taking to the streets in Khalil's name. Some cops and the local drug lord try to intimidate Starr and her family. What everyone wants to know is: what really went down that night? And the only person alive who can answer that is Starr.

But what Starr does—or does not—say could upend her community. It could also endanger her life.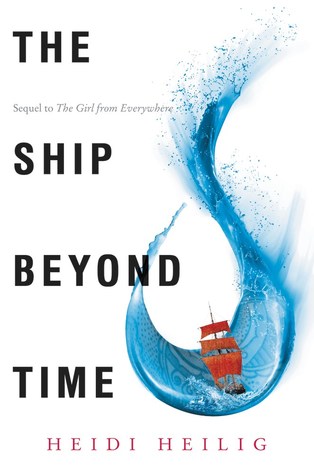 The Ship Beyond Time by Heidi Heilig
Find it at:
Goodreads
|
Booklikes
|
LibraryThing
The breathtaking sequel to the acclaimed The Girl from Everywhere. Nix has escaped her past, but when the person she loves most is at risk, even the daughter of a time traveler may not be able to outrun her fate—no matter where she goes. Fans of Rae Carson, Alexandra Bracken, and Outlander will fall hard for Heidi Heilig's sweeping fantasy.

Nix has spent her whole life journeying to places both real and imagined aboard her time-traveling father's ship. And now it's finally time for her to take the helm. Her father has given up his obsession to save her mother—and possibly erase Nix's existence—and Nix's future lies bright before her. Until she learns that she is destined to lose the one she loves. But her relationship with Kash—best friend, thief, charmer extraordinaire—is only just beginning. How can she bear to lose him? How can she bear to become as adrift and alone as her father?

Desperate to change her fate, Nix takes her crew to a mythical utopia to meet another Navigator who promises to teach her how to manipulate time. But everything in this utopia is constantly changing, and nothing is what it seems—not even her relationship with Kash. Nix must grapple with whether anyone can escape her destiny, her history, her choices. Heidi Heilig weaves fantasy, history, and romance together to tackle questions of free will, fate, and what it means to love another person. But at the center of this adventure are the extraordinary, multifaceted, and multicultural characters that leap off the page, and an intricate, recognizable world that has no bounds. The sequel—and conclusion—to the indie darling The Girl from Everywhere will be devoured by fans of Rachel Hartman and Maggie Stiefvater. Includes black-and-white maps.
My Fair Duchess by Megan Frampton
Find it at:
Goodreads
|
Booklikes
|
LibraryThing
Amazon
|
Barnes & Noble
|
Kobo
|
BAM!
The unexpected duchess

Archibald Salisbury, son of a viscount, war hero, and proficient in the proper ways of aristocratic society, has received orders for his most challenging mission: Genevieve, Duchess of Blakesley. How she inherited a duchy isn't his problem. Turning her into a perfect duchess is. But how can he keep his mind on business when her beauty entices him toward pleasure?

It was impossible, unprecedented…and undeniably true. Genevieve is now a "duke", or, rather, a duchess. So what is she to do when the ton eyes her every move, hoping she'll make a mistake? Genevieve knows she has brains and has sometimes been told she has beauty, but, out of her depth, she calls on an expert. And what an expert, with shoulders broad enough to lean on, and a wit that matches her own. Archie is supposed to teach her to be a lady and run her estate, but what she really wants to do is unladylike—run into his arms.
More Great Books Being Released Today
(Covers link to Goodreads)
What new releases are you excited about this week?