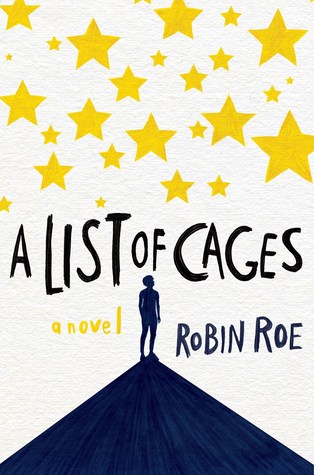 A List of Cages by Robin Roe
Disney Book Group
Publication Date: January 10, 2017
Date Read: December 31, 2016
Source: NetGalley
★
★
★
★
★
When Adam Blake lands the best elective ever in his senior year, serving as an aide to the school psychologist, he thinks he's got it made. Sure, it means a lot of sitting around, which isn't easy for a guy with ADHD, but he can't complain, since he gets to spend the period texting all his friends. Then the doctor asks him to track down the troubled freshman who keeps dodging her, and Adam discovers that the boy is Julian--the foster brother he hasn't seen in five years.

Adam is ecstatic to be reunited. At first, Julian seems like the boy he once knew. He's still kind hearted. He still writes stories and loves picture books meant for little kids. But as they spend more time together, Adam realizes that Julian is keeping secrets, like where he hides during the middle of the day, and what's really going on inside his house. Adam is determined to help him, but his involvement could cost both boys their lives.




This book was amazing. When I decided to read this book, I hadn't seen anything about it. The description looked compelling so I took a chance on it. I made a very good decision because this book ended up not only being one that I couldn't put down but one that I couldn't stop thinking about long after reading the final page. The story is both heartbreaking and hopeful with characters you want to spend as much time with as possible. This was an incredibly well told story.
Adam is the kind of kid that seems to have everything going for him. He has a great relationship with his mother and a very good home life. He has a tight group of friends that he cares about. He is a senior in high school and he is doing great in school. Adam seems to know just the right thing to say and sometimes can even make things better by offering up a quick smile at just the right time. Adam does have to deal with his ADHD but he has things generally under control.
Julian has had to deal with a lot in his life. His parents both died in a car crash when he was very young. He actually spent some time in the foster system and lived with Adam and his mother for a period of time. Julian moved in with his uncle years ago and as far as everyone knows everything is fine at home. But everything is not fine at home. Not by a lot. To make matters worse, Julian has no friends and is often teased and bullied at school. When Adam sees Julian at school and they reconnect, Julian is eager to be around someone that actually wants him around.
This wasn't really an easy story to read. My heart broke so many times while I read this book. I felt like I was there with Julian every time somebody said something mean to him and I was there with him at his house with his uncle. I also felt Adam's uncertainty regarding what was the right thing to do. Adam's determination to be there for his friend no matter what was equally powerful. The truly sad part of this book is that these kind of stories aren't too different than what really happens to some teens.
This book was wonderfully written. I honestly put the book down once to sleep and then picked it back up again and couldn't put it down until I was done. I loved the characters. Adam and Julian were wonderful but there was a whole cast of people in this book that each added something worthwhile to the story. Some scenes were intense and the way that they were written made them seem so incredibly real and vivid.
I would highly recommend this book to others. I think that this is a book that needs to find its way into everyone's hands. I cannot remember the last time that I was as emotionally involved in a book as I was with this one. It was really that good.
I received an advance reader edition of this book from Disney Book Group via NetGalley.
About the Author


Robin Roe has a bachelor's degree from Cornell University and a master's from Harvard. She counseled adolescents in Boston before she moved to Dallas, Texas to run a mentoring program for at-risk teens. This is her first novel. Follow Robin on Twitter @robinroewriter.