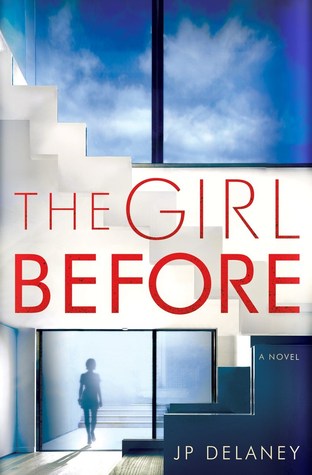 The Girl Before by J.P. Delaney
Random House Publishing Group - Ballantine
Publication Date: January 24, 2017
Date Read: January , 2017
Source: NetGalley
★
★
★
★
☆
Please make a list of every possession you consider essential to your life.

The request seems odd, even intrusive—and for the two women who answer, the consequences are devastating.

Emma
Reeling from a traumatic break-in, Emma wants a new place to live. But none of the apartments she sees are affordable or feel safe. Until One Folgate Street. The house is an architectural masterpiece: a minimalist design of pale stone, plate glass, and soaring ceilings. But there are rules. The enigmatic architect who designed the house retains full control: no books, no throw pillows, no photos or clutter or personal effects of any kind. The space is intended to transform its occupant—and it does.

Jane
After a personal tragedy, Jane needs a fresh start. When she finds One Folgate Street she is instantly drawn to the space—and to its aloof but seductive creator. Moving in, Jane soon learns about the untimely death of the home's previous tenant, a woman similar to Jane in age and appearance. As Jane tries to untangle truth from lies, she unwittingly follows the same patterns, makes the same choices, crosses paths with the same people, and experiences the same terror, as the girl before.


I really enjoyed this page turner of a novel. I went into the book without a lot of expectations. I decided to read this book based on the summary which sounded like it had the making of a good thriller. It turns out that I was hooked by the story almost immediately and found myself doing that thing where I promise that I will read just one more chapter and before I knew it, I had read half the book.
This books tells two stories from two different timelines. Emma and Jane have both lived at the house at One Folgate Street. One Folgate Street is not your average house. It is a house with rules. Lots of rules. Rules that most people wouldn't even want to try to follow. If a potential tenant decides that they want to live in the house, the approval process is quite difficult and most are turned away. Emma and Jane were both approved. Emma moved in the house first with her boyfriend, Simon. Later, Jane moves in and learns that Emma died in the house.
Both Emma and Jane were going through some very troubling issues when they moved into the house and hoped the move would give them the fresh start they want. Emma and Jane were both very interesting characters. I wouldn't say that I ever really liked them but I really became invested in learning what happened to Emma and wondered what would happen to Jane. The other key character in this book, Edward, was similar in that I didn't really like his characters but I couldn't help myself from wondering what he would do next.
The way this book was laid out really worked well. The chapters alternated from Emma and Jane's point of view with Jane spending a lot of energy trying to learn what had happened to Emma. Sometimes the reader would see something happen to Emma just to have it happen to Jane in the next chapter. Instead of feeling redundant, it just added an extra layer to the story. The more that Jane became obsessed with finding out about Emma the more hooked I became. This was a book that was incredibly hard to set aside.
My only complaint about the book is that I am not completely sold on the ending. I do like that the book took a lot of twists and turns that I didn't expect. For some reason the ending felt like a bit of a let down for me. I think that I had expected a bigger scene to help wrap everything up.
I would highly recommend this book to fans of mystery thrillers. This book grabbed my interest from the first page and never let go. I look forward to reading more from J.P. Delaney in the future.
I received an advance reader edition of this book from Random House Publishing Group - Ballantine via NetGalley.
About the Author


JP Delaney is the pseudonym of an author who has previously written award-winning fiction under other names.