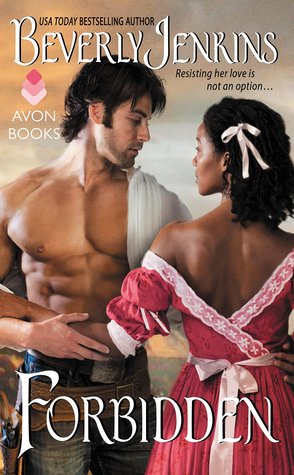 Forbidden by Beverly Jenkins
Series: Old West #1
Avon Books
Publication Date: January 26, 2016
Date Read: January 22, 2017
Source: Won @
Addicted to Romance
★
★
★
★
☆
USA Today bestselling author Beverly Jenkins returns with the first book in a breathtaking new series set in the Old West

Rhine Fontaine is building the successful life he's always dreamed of—one that depends upon him passing for White. But for the first time in years, he wishes he could step out from behind the façade. The reason: Eddy Carmichael, the young woman he rescued in the desert. Outspoken, defiant, and beautiful, Eddy tempts Rhine in ways that could cost him everything . . . and the price seems worth paying.

Eddy owes her life to Rhine, but she won't risk her heart for him. As soon as she's saved enough money from her cooking, she'll leave this Nevada town and move to California. No matter how handsome he is, no matter how fiery the heat between them, Rhine will never be hers. Giving in for just one night might quench this longing. Or it might ignite an affair as reckless and irresistible as it is forbidden . . .


This is the first book by Beverly Jenkins that I have read and I really enjoyed it. I do have to admit that I completely judged this book by its cover. I don't think I even read the summary until after I finished the book (I do that quite a lot actually). I assumed based on the cover that this was going to be an interracial historical romance but the story ended up being a bit different than that. The difference was probably even more interesting. This was a book that I ended up reading in less than a day simply because I didn't want to put it down.
Eddy is determined to move to California and open a restaurant. She ends up in Virginia City, Nevada after almost losing her life in the Nevada desert. We learn very early in the book that Eddy is tough and resourceful. She doesn't give up even when things looks impossible. Rhine is the man that rescued Eddy when she was close to death in the desert. He is a prominent citizen in Virginia City and owns a successful business in the town. His life depends on his ability to pass himself as a white man.
Eddy and Rhine are drawn to each other from the very beginning. Eddy has no plans to act on those impulses for a couple of rather important reasons. Eddy's presence in the town really makes Rhine consider some of the choices that he has made in his life and he make a few changes. I liked the chemistry between this pair and thought that they really proved how much they cared about each other through their actions.
This book has a lot of excitement in it in addition to the romance. Virginia City was a wonderful little town filled with wonderful characters. Each town person in the story had their own charm and really added something to the book. It seemed like something was always happening in this town and Eddy and Rhine kept themselves pretty busy both in the town and with each other.
I would recommend this book to fans of historical romance. The characters were fantastic and the plot was well executed. I can't wait to start the next book this series!
I won a copy of this book from Addicted to Romance. Thank you for the giveaway!
About the Author




BEVERLY JENKINS has received numerous awards, including five Waldenbooks/Borders Group Best Sellers Awards, two Career Achievement Awards from Romantic Times Magazine, and a Golden Pen Award from the Black Writer's Guild. Ms Jenkins was named one of the Top Fifty Favorite African-American writers of the 20th Century by AABLC, the nation's largest on-line African-American book club. She was recently nominated for the NAACP Image Award in Literature.