#Spotlight & #Review - Breath of Fire by Amanda Bouchet @AuthorABouchet @SourcebooksCasa #excerpt #giveaway
A Letter from Amanda Bouchet
A note to readers of The Kingmaker Chronicles
Breath of Fire
comes out on January 3
rd
and I couldn't be more excited about it! I hope that readers who met Cat and Griffin and followed their exploits in
A Promise of Fire
will be looking forward to this second installment in The Kingmaker Chronicles, and I hope that new readers will be interested in giving this fantasy romance trilogy a try. The story picks up right where
A Promise of Fire
left off and with a shocking moment of truth: Cat's secrets are finally revealed to all. But with the cat out of the bag (pun definitely intended!), important plans can now form to move Thalyria toward unification under Cat and Griffin's joint rule—plans that will certainly keep Beta Team on their toes. But while Cat's violent past and lingering self-doubt still haunt her on a deep level, Griffin won't let her back down from the fate she'd love to avoid. As Griffin propels her toward her inevitable destiny and Cat tries to come to terms with the prophecy that's haunted her for eight years, readers can expect plenty of adventure and danger, more of Cat's smart-mouthed humor, exciting Beta Team moments, and a romance that heats up to positively scorching levels. Friendships solidify into unshakable bonds, and perilous quests lead the members of Beta Team into uncharted territory where monsters, magic, and mayhem abound. With
Breath of Fire
, I hope that readers get swept away and caught up in the emotion and adventure as Cat and Griffin try to navigate their developing and intensely passionate relationship while also taking on the daunting and dangerous task of conquering the world. But most of all, I hope you simply enjoy the book!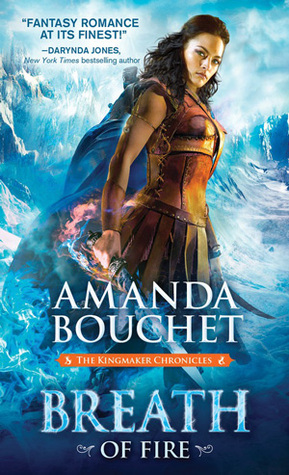 Breath of Fire by Amanda Bouchet
Series: Kingmaker Chronicles #2
Publisher: Sourcebooks Casablanca
Publication Date: January 3, 2017
Date Read: December 11, 2016
Source: NetGalley
★
★
★
★
☆
SHE'S DESTINED TO DESTROY THE WORLD…
BUT NOT IF SHE CAN HELP IT

"Cat" Catalia Fisa has been running from her destiny since she could crawl. But now, her newfound loved ones are caught between the shadow of Cat's tortured past and the threat of her world-shattering future. So what's a warrior queen to do when she knows it's her fate to be the harbinger of doom? Everything in her power.

Griffin knows Cat is destined to change the world—for the better. As the realms are descending into all-out war, Cat and Griffin risk sacrificing everything they've fought for. Gods willing, they will emerge side-by-side in the heart of their future kingdom...or die trying.





This is just my kind of book! This one really has it everything from excellent characters to an exciting plot that rarely slows down. I am loving this new fantasy romance series and already know that this is a book that I will most likely read again. This book picks up right where the first book,
A Promise of Fire
, leaves off so you really do want to read this series in order. From the moment I finished the first book, I couldn't wait to start reading the second one and it lived up to my expectations.
All of Cat's secrets are revealed at the start of the story and it seems that everything she has feared is now coming true. Cat does have power and abilities unlike anyone else. To save and protect the people she cares about and the kingdom, Cat goes on a quest with Griffin, Carver, Flynn, and Kato where all of their lives will be in danger.
This book started out with a really strong romance feel and I was a bit worried that the awesome fantasy of the first book was going to be overshadowed by romance. I had no need to worry because the fantasy in this book is quite strong. There really is a little bit of everything and the excitement never slowed down. I don't want to give any of the story away but as I sit here thinking about what happens in this book, I can't believe that it all fit in this single volume.
The characters in this book are just wonderful. Cat is fierce and caring. She is brave and will sacrifice herself to keep others safe. Griffin is smart and tough. He will not let anything happen to Cat no matter what. We get the chance to know Kato, Carver, Flynn, and Jocasta better in this book and I grew to like them even more. Kato had a really important role in this book and my heart ached for him at times.
The book was very well balance. It was filled with excitement and fantasy elements. The romance between Griffin and Cat is strong and their chemistry is still off the charts. There are a couple of secondary romances that are just starting to show promise in this book as well. There are moments in the story that I found rather funny as well and thoroughly enjoyed the banter between the characters.
I would highly recommend this series to others. I think it is well crafted and highly entertaining. I can't wait to read more of the Kingmaker Chronicles.
I received an advance reader copy of this book from Sourcebooks Casablanca via NetGalley.
a Rafflecopter giveaway
The Series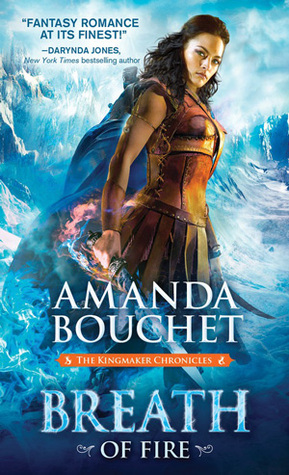 A Promise of Fire -
My Review
Breath of Fire
The Author
Award-winning author Amanda Bouchet grew up in New England and studied French at the undergraduate and graduate levels, first at Bowdoin College and then at Bowling Green State University. She moved to Paris, France in 2001 and has been there ever since. She met her husband while studying abroad, and the family now includes two bilingual children, who will soon be correcting her French.