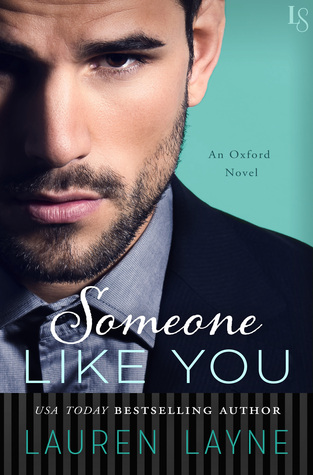 Someone Like You by Lauren Layne
Series: Oxford #3
Random House Publishing Group - Loveswept
Publication Date: December 6, 2016
Date Read: December 2, 2016
Source: NetGalley
★
★
★
★
★
Lauren Layne's bestselling Oxford Series continues with the poignant, heartwarming story of New York's most eligible bachelor, Lincoln Mathis, a man who's living a lie—until his dream woman takes away the pain.

Lincoln Mathis doesn't hide his reputation as Manhattan's ultimate playboy. In fact, he cultivates it. But behind every flirtatious smile, each provocative quip, there's a secret that Lincoln's hiding from even his closest friends—a tragedy from his past that holds his heart quietly captive. Lincoln knows what he wants: someone like Daisy Sinclair, the sassy, off-limits bridesmaid he can't take his eyes off at his best friend's wedding. He also knows that she's everything he can never have.

After a devastating divorce, Daisy doesn't need anyone to warn her off the charming best man at her sister's wedding. One look at the breathtakingly hot Lincoln Mathis and she knows that he's exactly the type of man she should avoid. But when Daisy stumbles upon Lincoln's secret, she realizes there's more to the charming playboy than meets the eye. And suddenly Daisy and Lincoln find their lives helplessly entwined in a journey that will either heal their damaged souls . . . or destroy them forever.




Yay...Lincoln's story! This is the third book in the Oxford series and my favorite so far. This book cold easily be read as a stand alone although you will not know the history of some of the characters. Lincoln's character shines from the moment he first shows up on the page. As soon as he had a role in this series, I knew that I needed to read his story. It turns out that his story was worth the wait.
I had a feeling that Lincoln was a lot more than what we have seen in the previous books and I was right. He is a gorgeous playboy who can have any woman that he wants. Women literally throw themselves at this man but I had to know what made him tick. Let me just say that I was shocked by what is learned about Lincoln's past in this book. I liked his character before I started this book but I like him even more now that I have finished.
Daisy has her own story and everyone seems to be walking on eggshells around her. She has been through a divorce but it seemed that there was more to the story. Daisy's story wasn't as shocking as Lincoln's but it did explain a lot. I liked Daisy a lot. She worked hard to put her life back together and had an inner strength that was impressive. I liked how easily she was able to really see Lincoln for who he is.
I loved Lincoln and Daisy as a couple. These two were just so perfect together. From the very beginning of the book, they were just a lot of fun. They connected almost immediately and really were a perfect match for each other. They had wonderful chemistry and I liked how they seemed to feel comfortable with each other immediately. The build up of the romance was intense and I was completely invested by the time they actually acted on it.
I would highly recommend this book to fans of contemporary romance. Lincoln is such a great character and I loved his story. I also really enjoyed the fact that the obstacle that this couple had to overcome is a little different than I usually see and was completely unexpected. I am looking forward to reading more for this talented author very soon.
I received an advance reader edition of this book from Random House Publishing Group - Loveswept via NetGalley
.
Oxford Series
Book #2 -
I Wish You Were Mine
-
My Review
Book #3 -
Someone Like You
About the Author


Lauren Layne is the USA Today bestselling author of more than a dozen contemporary romance novels. Prior to becoming an author, Lauren worked in e-commerce and web-marketing. A year after moving from Seattle to NYC to pursue a writing career, she had a fabulous agent and multiple New York publishing deals. Lauren currently lives in Manhattan with her husband and plus-sized Pomeranian. When not writing, you'll likely find her running (rarely), reading (sometimes), or at happy hour (often).