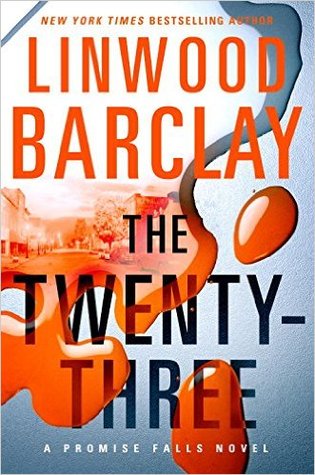 The Twenty-Three by Linwood Barclay
Series: Promise Falls #3
Berkley Publishing Group
Publication Date: November 1, 2016
Date Read: October 22, 2016
Source: NetGalley
★
★
★
★
☆
From New York Times and #1 international bestselling author Linwood Barclay comes the third jaw-dropping thriller set in Promise Falls.

Everything has been leading to this.

It's the Saturday of Memorial Day weekend, May 23rd, and the small town of Promise Falls, New York, has found itself in the midst of a full-blown catastrophe. Hundreds of people are going to the hospital with similar flu-like symptoms—and dozens have died. Investigators quickly zero in on the water supply. But the question for many, including private investigator Cal Weaver, remains: Who would benefit from a mass poisoning of this town?

Meanwhile, Detective Barry Duckworth is faced with another problem. A college student has been murdered, and he's seen the killer's handiwork before—in the unsolved homicides of two other women in town. Suddenly, all the strange things that have happened in the last month start to add up…

Bloody mannequins found in car "23" of an abandoned Ferris wheel…a fiery, out-of-control bus with "23" on the back, that same number on the hoodie of a man accused of assault…

The motive for harming the people of Promise Falls points to the number 23—and working out why will bring Duckworth closer to death than he's ever been before…






I enjoyed this final installment in the Promise Falls trilogy. I was eager to finally get some answers when I picked up this book and I feel like I got them for the most part. Like the other two books in the trilogy, this novel did have its own focus but there was a lot of things that needed to be wrapped up from the previous books in the series. This was a really fast paced and exciting story.

This book starts with a bang. People in Promise Falls are getting sick. Really sick. Many people are even dying. The town is trying to keep up and figure out what is going on but they are completely overwhelmed. In addition to the sickness, there is a new murder that needs to be solved and they are still trying to figure out previous unsolved murders.

All of the great characters are back from the previous book and they are all working to find out what is going on in this town. Duckworth has his hands full. Seriously, how is he in charge of every problem in this city? I liked Duckworth but realistically I don't think he could have possibly kept up with as much as he did. Cal and David are both dealing with issues that are a little closer to home for them.

I was pretty satisfied by how the book and trilogy wrapped up. There were a few surprises in the end but nothing that didn't make sense in the story. This trilogy really should be read in order and in quick succession if at all possible. Each book left so many unanswered questions that finally are addressed in this book. I think anyone trying to read this book as a stand alone novel will miss out on the larger story and will probably be somewhat unsatisfied.

I would recommend this book and trilogy and book to fans of mystery thrillers. This is a smartly plotted mystery that should appeal to a large number of readers. I have read and enjoyed Linwood Barclay's work many times in the past and I look forward to reading more in the future.
I received an advance reader edition of this book from Berkley Publishing Group via NetGalley.
Book #3 - The Twenty-Three
About the Author

Photo credit: Bill Taylor


Linwood Barclay is a New York Times and #1 international bestselling author whose critically acclaimed novels have been optioned for film and TV.