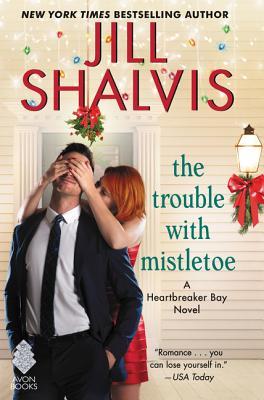 The Trouble with Mistletoe by Jill Shalvis
Series: Heartbreaker Bay #2
Publisher: Avon Books
Publication Date: September 27, 2016
Date Read: September 13, 2016
Source: Edelweiss
★
★
★
★

☆
If she has her way ...

Willa Davis is wrangling puppies when Keane Winters stalks into her pet shop with frustration in his chocolate-brown eyes and a pink bedazzled cat carrier in his hand. He needs a kitty sitter, stat. But the last thing Willa needs is to rescue a guy who doesn't even remember her ...

He'll get nothing but coal in his stocking.

Saddled with his great-aunt's Feline from Hell, Keane is desperate to leave her in someone else's capable hands. But in spite of the fact that he's sure he's never seen the drop-dead-gorgeous pet shop owner before, she seems to be mad at him ...

Unless he tempers "naughty" with a special kind of nice ...

Willa can't deny that Keane's changed since high school: he's less arrogant, for one thing—but can she trust him not to break her heart again? It's time to throw a coin in the fountain, make a Christmas wish—and let the mistletoe do its work ...






This is such a great story! I haven't read a lot of books written by Jill Shalvis yet but everyone that I have picked up so far has been really good. This series is the second book in the Heartbreaker Bay series but it would be great as a stand alone novel. This was one of those books that just put a smile on my face while I was reading it because the story was just delightful.

One of the things that I really love about this series is the wonderful cast of characters. This book features Willa and Keane. Willa owns the local pet story which added to the charm of the book for me since I just love a dose of animals in any book. Keane is in real estate and construction and Willa considers him to be completely off limits due to a past that he doesn't even remember. She still just can't say no when he comes to her for help with his aunt's cat.

I loved Willa and Keane as a couple. I liked that instead of keeping secrets throughout the book this pair actually talked about things. There were a few things that they both needed to figure out but most of the issues dealt with what they each wanted in their own life. I liked the chemistry between the pair and thought that they just seemed to match up perfectly.

I thought that this story had a really nice flow to it. There were some parts of the book that were serious and others that were more silly than anything else but it all worked together perfectly. The Christmas part of the story was really fairly small. There is some talk of decorations and Santa but nothing too over the top which is perfect for me. The touch of humor in the story was very well done as well.

I would recommend this book to fans of contemporary romance. This is a sweet and fun story filled with great characters. I am becoming quite the fan of Jill Shalvis and can't wait to see what will happen next in Heartbreaker Bay!

I received an advance reader edition of this book from Avon Books via Edelweiss for the purpose of providing an honest review.
About the Author




New York Times bestselling author Jill Shalvis lives in a small town in the Sierras full of quirky characters. Any resemblance to the quirky characters in her books is, um, mostly coincidental. Look for Jill's bestselling, award-winning books wherever romances are sold and visit her website for a complete book list and daily blog detailing her city-girl-living-in-the-mountains adventures.