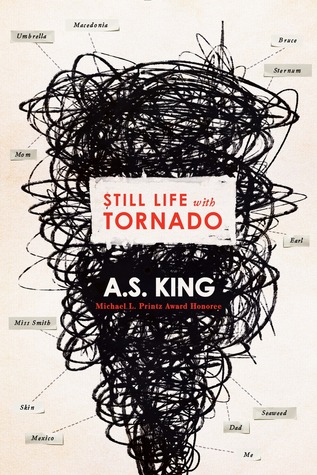 Still Life with Tornado by A.S. King
Publisher: Dutton Books for Young Readers
Publication Date: October 11, 2016
Date Read: September 18, 2016
Source: First to Read
★
★
★
★

☆
Sarah can't draw. This is a problem, because as long as she can remember, she has "done the art." She thinks she's having an existential crisis. And she might be right; she does keep running into past and future versions of herself as she explores the urban ruins of Philadelphia. Or maybe she's finally waking up to the tornado that is her family, the tornado that six years ago sent her once-beloved older brother flying across the country for a reason she can't quite recall. After decades of staying together "for the kids" and building a family on a foundation of lies and violence, Sarah's parents have reached the end. Now Sarah must come to grips with years spent sleepwalking in the ruins of their toxic marriage. As Sarah herself often observes, nothing about her pain is remotely original —and yet it still hurts.













This book surprised me. I really didn't know what to think going into it. I grabbed it just because it looked somewhat interesting. I actually try not to read too much about a book before I sit down to read. For much of the book, I had no idea where things were going but I couldn't stop reading. Things shifted in the story at a point and what this book is really about became more clear. In the end, I really enjoyed this story.

Sarah is in the middle of a crisis. Nothing seems original to her and she doesn't want to do much of anything. She is about to be expelled from school since she hasn't been going. Nothing original happens there anyway. Past and future Sarahs keep popping into her life but don't always offer a whole lot of help. She spends her days following a homeless man around, walking around abandoned buildings, and trying to be original.

I really thought for the first part of the story the book was about mental illness. Sarah seems so depressed and when she started running into other versions of herself, I was sure she was hallucinating. I was wrong. This book is really about something else that starts to be unraveled as Sarah works to piece together her past. The bit of magical realism in the story was surprising but it helped to tell the story in a unique manner.

This was a really fast read for me. The way that the story was told was captivating. I knew that there was something going on and I had to keep reading to find out what it was. I liked that a bit of magical realism made its way into the story since it was completely unexpected. Sarah voice was compelling. From the very beginning of the book, I felt for this girl and wanted to find out what brought her to this place in life.

I would highly recommend this book to others. I think that it is a book that touches on a difficult topic in a completely new way. This is the first book by A.S. King that I have had a chance to read but I definitely plan to check out more of her work in the future.

I received an advance reader edition of this book from Dutton Books for Young Readers via First to Read for the purpose of providing an honest review.
About the Author




A.S. King is the critically acclaimed author of seven novels for young adults, most recently I Crawl Through It. Her fiction has earned numerous awards, including an L.A. Times Book Prize and a Printz Honor, and over three dozen starred reviews. The New York Times called her "one of the best YA writers working today." She lives in Pennsylvania with her family.