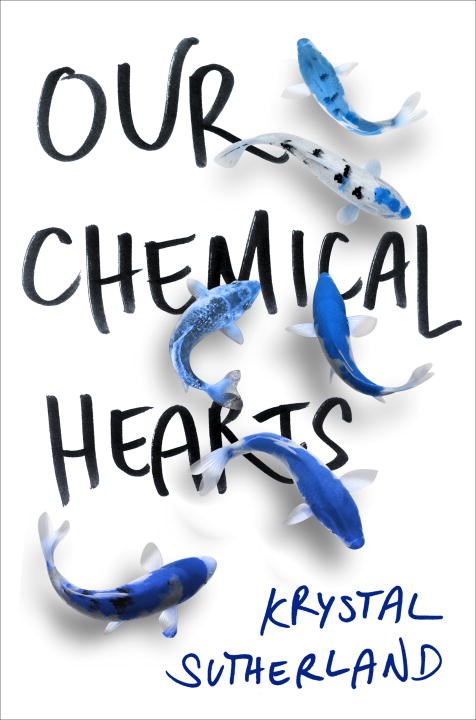 Our Chemical Hearts by Krystal Sutherland
Publisher: G. P. Putnam's Sons for Young Readers
Publication Date: October 4, 2016
Date Read: August 25, 2016
Source: First to Read
★
★
★
★

☆
John Green meets Rainbow Rowell in this irresistible story of first love, broken hearts, and the golden seams that put them back together again.

Henry Page has never been in love. He fancies himself a hopeless romantic, but the slo-mo, heart palpitating, can't-eat-can't-sleep kind of love that he's been expecting just hasn't been in the cards for him—at least not yet. Instead, he's been happy to focus on his grades, on getting into a semi-decent college and finally becoming editor of his school newspaper. Then Grace Town walks into his first period class on the third Tuesday of senior year and he knows everything's about to change.

Grace isn't who Henry pictured as his dream girl—she walks with a cane, wears oversized boys' clothes, and rarely seems to shower. But when Grace and Henry are both chosen to edit the school paper, he quickly finds himself falling for her. It's obvious there's something broken about Grace, but it seems to make her even more beautiful to Henry, and he wants nothing more than to help her put the pieces back together again. And yet, this isn't your average story of boy meets girl. Krystal Sutherland's brilliant debut is equal parts wit and heartbreak, a potent reminder of the bittersweet bliss that is first love.





My Review
I liked this book but have found that it is a rather tough one for me to rate. I was initially grabbed by the awesome cover and after reading the description, I just had to read it. There were things that I really liked about it and other parts that just didn't do a lot for me. I have been wavering between 3 and 4 stars and have finally settled on a 4 star rating since it was a rather enjoyable read overall. It was a really quick read that took a few turns that I didn't expect.
I loved the characters in this book. Henry was great. I loved him and his group of friends. His parents and sister were also quite amazing. I wasn't as sold on Grace. From the beginning of the book, it was very obvious that Grace was keeping something major to herself so it is no wonder that her character was more of a mystery. I did enjoy the interactions between Henry and Grace when they were together.
The main focus of this book is really solving the mystery that is Grace and Henry builds a relationship with her. Grace does have some tragedy in her past which is greatly impacting her present. Henry is patient and tries to be there for Grace even though he wants to move forward and focus on a future with her. For Henry, Grace becomes his total focus often to the detriment of other things in his life. In addition to being a story of first love, Henry learns a lot about himself, his family, and his friends over the course of the story.
I would recommend this book to others. I do think that this book is appropriate for older teens. There are some elements to the story that younger teens may not be ready for including drinking and sexual situations. This is the first book by Krystal Sutherland that I have read and I plan to look for her work in the future.
I received an advance review copy of this book from G. P. Putnam's Sons Books for Young Readers via First to Read for the purpose of providing an honest review.
About the Author


Krystal Sutherland was born and raised in Townsville, Australia, a place that has never experienced winter. Since then she's lived in Sydney, where she edited her university's student magazine; Amsterdam, where she worked as a foreign correspondent; and Hong Kong. Krystal has also interned at Bloomsbury Publishing and was shortlisted for the Queensland Young Writers Award. She has no pets and no children, but is fond of naming inanimate objects: in the Netherlands she owned a Dutch bicycle called Kim Kardashian, and a small, inflatable velociraptor called Herbert. Our Chemical Hearts is her debut novel.