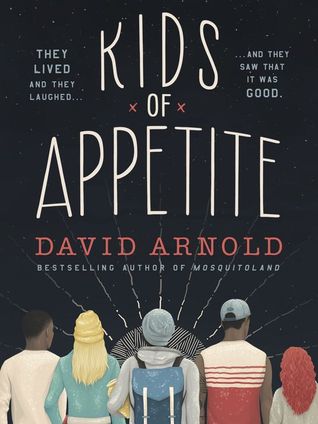 Kids of Appetite by David Arnold
Viking Books for Young Readers
Publication Date: September 20, 2016
Date Read: August 21, 2016
Source: First to Read
★
★
★
★

☆
The bestselling author of Mosquitoland brings us another batch of unforgettable characters in this tragicomedy about first love and devastating loss.

Victor Benucci and Madeline Falco have a story to tell.
It begins with the death of Vic's father.
It ends with the murder of Mad's uncle.
The Hackensack Police Department would very much like to hear it.
But in order to tell their story, Vic and Mad must focus on all the chapters in between.

This is a story about:

1. A coded mission to scatter ashes across New Jersey.
2. The momentous nature of the Palisades in winter.
3. One dormant submarine.
4. Two songs about flowers.
5. Being cool in the traditional sense.
6. Sunsets & ice cream & orchards & graveyards.
7. Simultaneous extreme opposites.
8. A narrow escape from a war-torn country.
9. A story collector.
10. How to listen to someone who does not talk.
11. Falling in love with a painting.
12. Falling in love with a song.
13. Falling in love





I decided to read this book partly because of the amazing cover. Seriously, the cover just screams "read me" to me. It wasn't just the cover that grabbed my interested though. I loved the synopsis and have had the author's debut novel on my TBR since it was released. I am glad that I made the decision to read this book. I actually read the whole book in a day which is unusual these days.

The characters really made this a very interesting story. Victor is at the center of the story and he was a very interesting character. He has a rare disease that limits his facial movements but his disease was more of a footnote to the story than anything else. He finds himself becoming a part of a mismatched group of kids. Each of the kids in the group had their own story that added a lot of interest to the book. Victor is especially close to Madeline who is trying to balance a very difficult situation.

I really enjoyed how the story was laid out. I think that the opening of them being interrogated worked well. We learn things about the characters bit by bit which really kept my interest high. Victor has a set of goals to accomplish and it was nice watching the group try to solve the clues and make it happen. I thought that as a team this group was incredible. I almost felt like this book was made up of a lot of different stories. Each of the character's backstory was so colorful that they really did tell their own story. It was impressive how everything did come together in the end.

I would recommend this book to others. I found it to be an evenly paced read filled with unique characters. This is the first book by David Arnold that I have had a chance to read but I am more eager than ever to pick up his debut novel.

I received an advance reader edition of this book from Viking Books for Young Readers via First to Read for the purpose of providing an honest review.
About the Author




David Arnold lives in Lexington, Kentucky, with his (lovely) wife and (boisterous) son. He is the critically acclaimed author of Mosquitoland, which has been translated into over a dozen languages. Previous jobs include freelance musician, stay-at-home dad, and preschool teacher. He is a fierce believer in the power of kindness and community. And pesto. He believes fiercely in pesto.