I am a series reader. I love being able to watch characters grow over the course of a series and get to know their world completely. There have been more than a few occasions when I have felt like a series looses some of the magic but there are times when I think that a series can get better with each installment.
I thought it would be fun to share some of the series that I have fallen in love with over the years.
#5 - Maggie O'Dell Series by Alex Kava
I happened upon this series completely by accident. I actually picked up the first couple of books in paperback at a yard sale years ago. I loved it and found myself trying to get my hands the rest of the series. I love Maggie O'Dell and have had a lot of fun with all of the changes that have happened in her life. There has not been a new Maggie O'Dell book in a couple years but Maggie has shown up in every one of the Ryder Creed books so I am still happy.
#4 - Myron Bolitar Series by Harlan Coben
I love Harlan Coben. I discovered his writing by accident as well in a very similar manner as I did with Alex Kava. After picking up one of his books that I had bought at a book fair, I couldn't put it down. Literally. I think I actually read the whole thing cover to cover without getting up out of my chair. I was soon on a quest to read all of his work and when I discovered this series, I was a little hesitant. A series about a sports agent? I wasn't sure but I fell in love very quickly. Harlen Coben has a great sense of humor which shines in this series.
#3 - Outlander Series by Diana Gabaldon
I wasn't sure if I should include this series on my list or not. I love it but I haven't read them all....yet. My sister loves this series and I actually remember making fun of her many years ago when she brought Outlander with her while we were waiting for my mom to come out of surgery because she said was re-reading it. I thought who in the world re-reads such a long book and the way that she described it didn't sound all that fabulous but I eventually gave it a try and loved the ones that I have read. I have only read the first 4 books and I have also listened to the first 3 for my own re-reads. I guess I am the kind of person that re-reads such a long book after all.
#2 - Mercy Thompson Series by Patricia Briggs
I saw some rave reviews for this series and decided to give it a try pretty soon after getting my kindle years ago. I have so much love for this series and the Alpha and Omega series set in the same world. I love how down to earth Mercy and every really is. The world building in this series is amazing and I love the characters. I hope this series goes on for a long time.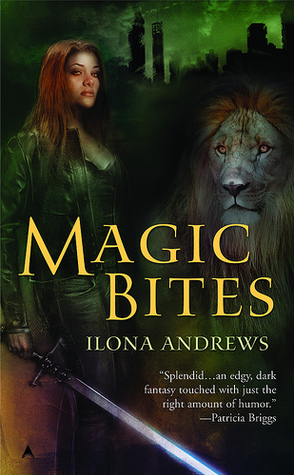 #1 - Kate Daniels Series by Ilona Andrews
I cannot say enough good things about this series. Seriously, if you haven't read this series yet...what are you waiting for?!? I love the world that it is set in, the humor that makes its way into the story, and the characters. I may actually swoon a bit if you just mention Curran to me on some days. This is a series that I can see myself reading and re-reading many times in the future.