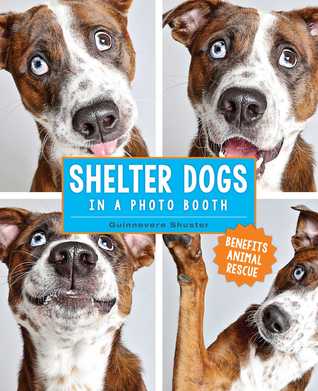 Shelter Dogs in a Photo Booth by Guinnevere Shuster
Andrews McMeel Publishing
Publication Date: May 3, 2016
Date Read: January 19, 2016
Source: NetGalley
★
★
★
★
★
Man's best friend! What better way to showcase adoptable dogs than by letting their true personalities shine in a photo booth! In the tradition of the best-selling dog photography book, Underwater Dogs, Shelter Dogs in a Photo Booth wins the heart of all dog lovers.

Often seen as sad, rejected, and behind cold metal bars, it's no wonder people would avoid images of shelter dogs awaiting forever homes. From talented photographer (and now public figure and adoption champion) Guinnivere Shuster comes Shelter Dogs in a Photo Booth, a guaranteed-to-make-you-smile photo book featuring shelter dogs in a brand-new light. Get ready to see the cutest canine portraits you've ever seen! Guinnevere's fantastic photos went viral and have been featured on websites, in magazines, and on television programs all over the world: Good Morning America, NBC, ABC, MSNBC, The Huffington Post, Time, The Daily Mail . . . even celebrities have gotten in on the action: Amy Poehler, Cesar Millan, and Zooey Deschanel have made statements and posts declaring their love of Guinnevere's work. After the adorable and up-for-adoption photos of these furry friends were seen and enjoyed by millions, adoption rates at Utah's Humane Society skyrocketed.

The book features 100 dog photo booth style photographs, each accompanied by a short story about the dog's personality, how the dog ended up in the shelter, and the adoption date. A follow-up will conclude the book, with photos of some of them with their new families.

A portion of the proceeds of this book will benefit the Humane Society of Utah and Best Friends Animal Society.




I am a huge animal lover. Huge. While I love most animals, I am really very partial to dogs. I am also a really big supporter of shelters and everything that they do for the animal population. My house is pretty filled with animals from my local shelter. We currently have 3 dogs and 1 cat that were all adopted from our local Humane Society.
I don't know why but I love looking at the photos of dogs waiting for their forever homes. We adopted 2 puppies from the Humane Society during the last few months of 2015 largely because of this. My husband has now banned me from the Humane Society's website. Like he can actually stop me. So I look and always feel a little sad that they are there waiting to find someone to love them as much as I love mine.
I kind of feel like this book was made just for me. Each page brought me wonderful pictures of great looking dogs along with a few tidbits about the animal. And the best part.....almost all of these dogs have found their happily ever after! I really loved the last section of the book that showed some of the animals now. Sometimes they were alone, sometimes with their new doggie siblings, and sometimes with their human family but they always looked really very happy.
I would highly recommend this book to animal lovers like myself. I think that it is absolutely wonderful that a portion of the proceeds from this book will go to the Humane Society of Utah and Best Friends Animal Society. I applaud the author for all of the time that she has making sure so many shelter animals have a wonderful photo to help them in their search for a forever family. Sometimes all it takes it a photo to fall in love.
I received an advance reader edition of this book from Andrews McMeel Publishing via NetGalley for the purpose of providing an honest review.
About the Author




Guinnevere Shuster studied photography and fine arts at the University of Utah and started volunteering her time to photograph homeless pets at the local humane society. She fell in love with this and it turned into a full-time position with the Humane Society of Utah in 2014.