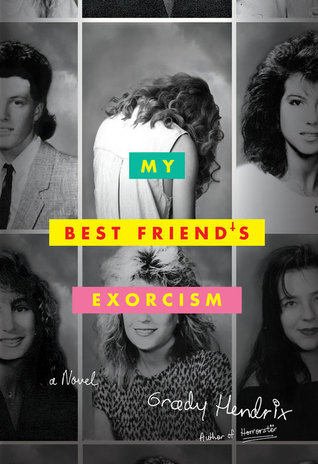 My Best Friend's Exorcism by Grady Hendrix
Quirk Books
Publication Date: May 17, 2016
Date Read: January 18, 2016
Source: NetGalley
★
★
★
☆
☆
Abby and Gretchen have been best friends since fifth grade, when they bonded over a shared love of E.T., roller-skating parties, and scratch-and-sniff stickers. But when they arrive at high school, things change. Gretchen begins to act . . . different. And as the strange coincidences and bizarre behavior start to pile up, Abby realizes there's only one possible explanation: Gretchen, her favorite person in the world, has a demon living inside her. And Abby is not about to let anyone or anything come between her and her best friend. With help from some unlikely allies, Abby embarks on a quest to save Gretchen. But is their friendship powerful enough to beat the devil?





I had really high hopes for this book. Like really high. I was a bit disappointed in the end. I wasn't a bad story but it didn't even come close to living up to my expectations. When I first saw this book, I knew that I would have to read it. Demonic possession with heavy dose of 80's references were enough to really grab the attention of this old lady. Unfortunately, despite the wonderful premise I found the book rather underwhelming.
Abby and Gretchen have been best friends since grade school. Things go wrong at a high school party when the girls were doing a few drugs. Gretchen gets lost in the woods and is gone for a night and her personality starts to changes. She becomes very mean especially to her friend, Abby. Abby knows that something is wrong but she can't seem to get anyone to listen to her in order to get her friend the help that she needs.
I love the 80's. I was a teen in the late 80's and I really was looking forward to a story set in this time period. Unfortunately, the 80's references in this book became a little too much for me. It felt a little forced in some ways and I think it actually ended up being a bit distracting.
The characters felt a little flat to me. I never felt any kind of connection to Abby or Gretchen. I also thought that the story dragged at points. There were some really exciting moments but nothing truly scary as I had hoped to find. In the end, this story just never really grabbed me and was just okay. I do think that a lot of readers will enjoy this one a lot. This is the first book by Grady Hendrix that I have read and I would b willing to read his work again in the future.
I received an advance reader edition of this book from Quirk Books via NetGalley for the purpose of providing an honest review.
About the Author

Grady Hendrix is a novelist and screenwriter based in New York City. His previous novel, Horrorstör, was named one of the best books of 2014 by National Public Radio.